Hurricane Katrina anniversary: Your comments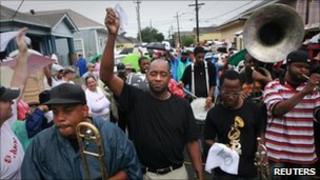 It has been five years since Hurricane Katrina hit the Gulf coast, killing more than 1,800 people and leaving New Orleans under water.
The storm, which hit land on 29 August 2005, left hundreds of thousands of people homeless. Five years later, many people have still not returned to the city.
Here are some of your comments from Twitter, Facebook and the BBC News website.
E-mails to the BBC
I was in Louisiana last year. I was shocked and horrified by the state the area is still in four years after Katrina. My wife is American and her mother and father live in Gulfport, Mississippi, which was another area badly hit. They have done a lot of work to rebuild their community but unfortunately, people in in Louisiana haven't been so lucky. John Marshallsay, Portsmouth, UK
Life was hard after Katrina and I feel bad for those that had to suffer. Ramina Collins, Laurel, USA
The Katrina hurricane taught a lesson that planning for disasters is the first consideration. Vigilance is the only immediate remedy. Dustin83v, Pennsylvania, USA
I travelled in the southern states with a friend in March 2008, two and a half years after Katrina. You could not help but marvel at the way the people there were trying to pick up their lives and get their tourism economy going again. I admire their spirit. If you get a chance to go there, New Orleans is such a beautiful city. It's recovering and the musicians are coming back. Given the opportunity, go and spend your money there and help them in the process. In doing so you will learn so much about the city. Chris Cullen, London, UK
Comments on Twitter
I was watching a film about Katrina. It's awful to see that it's still not sorted. How do I vote? I really want to help. missprincess
I want to take a moment to remember the victims and survivors of Hurricane Katrina. I am praying for you and your families and for complete restoration. RealMichelleW
Today marks the five year anniversary of Hurricane Katrina hitting New Orleans - while many are thankful today, many still need prayers. bwebbjr
I'm at a loss for anything coherent to say on Katrina's anniversary. Still all emotion, memories of my brother's evacuation, horror and shame. LisaMcIntire
The Katrina coverage snatches me back in time. It's more than I can stand to watch. kaylaevette41
Comments posted on Facebook
Today is the fifth anniversary of the worst disaster to hit the USA - Hurricane Katrina - and here on the Mississippi coast we remember the 7,000 people who died and the hundreds of thousands who lost their homes. We are a strong community rebuilding. Just say a prayer for the families still hurting from it. Dwayne Mahaffey
Five years ago today I was living through Hurricane Katrina. Crazy. Kristy Palmer
Woke up this morning sick but thinking back five years ago when myself, Jamilah, cousin Nic and the kids evacuated from Hurricane Katrina. A normal six -hour drive from New Orleans to Atlanta took us 15 hours. It was so hot, we couldnt run the air conditioning in the car because we didn't know when we would come across a gas station with gas, let alone food or a bathroom that didn't have a queue a mile-long down the street. Vaisha Joseph
On this day five years ago, our lives were changed forever due to Hurricane Katrina. It is difficult to describe what the situation felt like for all those involved. What doesn't kill us will make us stronger. Amen. Russell Barbarino
In remembrance of Hurricane Katrina. I can't believe it's been five years. I hope everyone feels blessed to be alive today and takes a little time to remember those who aren't. Katye Miller
It's been five years since Hurricane Katrina and the city is still recovering. T-Bone Diaz