Fourth suspect arrested over Canada terror plot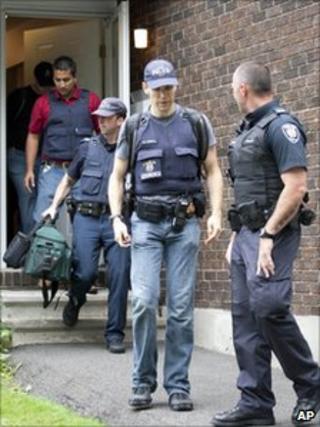 Canadian police have arrested a fourth suspect over a plot to support anti-coalition fighters in Afghanistan.
Federal police say the suspect was arrested in Ottawa as part of "standard operating procedures" after carrying out a search warrant.
The person has not been charged or named by police.
Three men have already been charged under Canada's anti-terrorism act with conspiring with people in Iran, Afghanistan, Dubai and Pakistan.
Hiva Alizadeh and Misbahuddin Ahmed were held in custody following a court appearance on Thursday, while Khurram Sher was charged with terrorism-related offences following a brief court appearance on Friday.
'Supporting ant-coalition fighters'
Police said on Thursday the first three suspects arrested were "part of a domestic terrorist group operating in Canada". RCMP officials also warned that the arrests were linked to a group fighting Western forces in Afghanistan.
Hiva Alizadeh and Misbahuddin Ahmed were arrested on Wednesday in Ottawa. Khurram Sher was then arrested on Thursday in London, Ontario.
The Toronto Star newspaper reported Mr Sher had sung and danced in an audition for the Canadian Idol television programme. But Canadian police have not confirmed if Mr Sher appeared on the show.
Police said the trio, face charges of conspiracy to facilitate terrorism, with Mr Alizadeh also charged with providing or making property available for a terrorist organisation and possession of explosives.
RCMP officials said earlier this week investigators had seized bomb-making instructions and more than 50 circuit boards specifically designed to remotely detonate bombs.
Mr Therriault said police began making arrests this week because they believed an attack was imminent.