Katrina evacuees found welcome and worries in Texas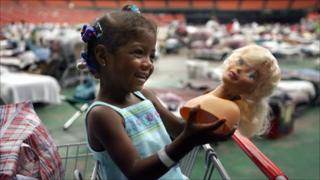 When Hurricane Katrina hit New Orleans five years ago, it is estimated that 200-300,000 people went to Houston. Though most returned home, tens of thousands decided to stay.
Many of the evacuees from New Orleans headed in old buses to the Astrodome, a sports stadium in the city, carrying nothing more than the clothes on their backs.
They were met by hundreds of Houston residents desperate to help. Cars and minivans circled the stadium as people gave the evacuees clothes, food, toiletries, prams.
Some even pulled over and invited complete strangers into their homes.
Welcome mat pulled
On a recent weekend, a few metres from the Astrodome, a hunting exhibition was taking place, where everything from a bow and arrow to camouflage clothing was on show.
The gear was for hunting animals - although some in attendance, it seemed, wouldn't mind chasing Katrina evacuees.
"They are third, fourth, fifth generation thieves. They've never had jobs. The only life they know is crime," said one man.
"They all need to leave and go back," said another. "They're mooching off the system."
Many of the evacuees who stayed on in Houston found the welcome mat quickly pulled.
They were blamed for a rising crime rate, especially murders, and accused of playing the system - having their housing paid by the government while making little effort to find a job.
One of them, Lisa Donahue did find work - but still felt the pressure.
"When I started off working, everyone assumed that I was loud and ignorant and didn't want to work," says Lisa, as she bounces her five-year-old son on her lap.
"A lot of people were like, 'You all need to go back home.' There was a perception of people from New Orleans. Some of them were really ugly."
Flying pastor
The attitude of those Houston residents was inevitably echoed by their children.
Seventeen-year-old Aaron Spells recalls constant fights in school, simply because he came from New Orleans.
"They had a Texas and New Orleans war, basically Texas not liking New Orleans. It was like New Orleans is going to come and try and take over, so they had to protect their homes and they had to fight."
Aaron and his mother attend a church in Houston specially built for what the pastor, Robert Blakes, calls the diaspora from New Orleans.
The vast majority of the congregation came to Houston as a result of Katrina. The reason they've stayed, says Pastor Blakes, is obvious.
"The economic opportunities that are here, the educational opportunities, the political culture of this city (Houston) that says have some initiative and we'll get behind you. It's caused many to rise to the occasion and has brought the best out of many," he says.
"This experience of making the transition from New Orleans to Houston has been challenging but it has been most rewarding at the same time."
Robert Blakes has become something of a flying pastor, tending to a flock that straddle both cities.
Each weekend he flies to New Orleans to preach at an early morning Sunday service before flying back to Houston for a mid-morning service.
The sacrifice would be worth it, he says, as he expects his former home to benefit from the access to a better quality of life that young New Orleanians, in particular, can access in Houston.
"I believe that many of them will probably return to the city of New Orleans to lead in the business arena, in the political arena," he says.
"So I believe the greatest impact is probably 15-20 years down the road."
Soul Rebels
The future may be bright - but the present seems a bit dull, for some at least.
On Angel Way, a street in south Houston, built for Katrina evacuees with the help of Oprah Winfrey, a group of young girls bemoan everyday life in Houston.
"We miss fun things, the music, the crawfish, the seafood, parades - we don't have those things down here. It's easier to have fun in New Orleans."
That sense that the fun is back home partly explains why Lumar Le Blanc was marching through New Orleans with his Soul Rebels Brass Band on a recent sticky evening.
Lumar - a drummer, and trumpeter Marcus Hubbard - drive the 12-hour round trip from their homes in Houston each week - just to play a gig in New Orleans.
"We love Houston because it's offered us some consolation after our homes were destroyed. I feel I have the best of both worlds," says Lumar.
"I always feel this is home, New Orleans. I'm bred here, I play its music, I eat its food, I live its people. We'll always be New Orleanians, until the day we die."