Canadian police charge three in suspected terror plot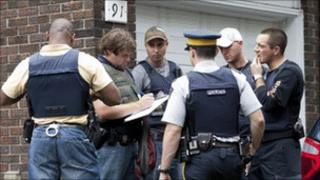 Three Canadians arrested in an alleged terrorist conspiracy had bomb parts and plans and posed a "real and serious threat", Canadian police have said.
The trio, arrested this week, were charged with supporting terrorism.
Hiva Alizadeh and Misbahuddin Ahmed were jailed following a court appearance on Thursday.
Also arrested was Khurram Sher, who according to the Toronto Star newspaper sang and danced in an audition for the Canadian Idol television programme.
Police said Mr Alizadeh, 30, Mr Ahmed, 26, and Mr Sher, 28, face charges of conspiracy to facilitate terrorism, with Mr Alizadeh also charged with providing or making property available for a terrorist organisation and possession of explosives.
Mr Alizadeh and Mr Ahmed are residents of Ottawa, and Mr Sher is a resident of London, Ontario.
The lead investigator in the case, Royal Canadian Mounted Police Chief Superintendent Serge Therriault, said police had arrested the three suspects this week because they believed an attack was imminent.
"This group posed a real and serious threat to the citizens of the national capital region and Canada's national security," Mr Therriault told reporters.
"Our criminal investigation and arrests prevented the assembly of any bombs and the terrorist attack or attacks from being carried out."
He said the group had sought to support anti-coalition fighters in Afghanistan. It was unclear whether the group planned attacks in Canada.
Police said investigators had seized bomb-making instructions and more than 50 circuit boards specifically designed to remotely detonate bombs.
A man identified as Khurram Sher sang an Avril Lavigne song and danced the "moonwalk" and the "robot" in an audition for the sixth series of Canadian Idol. During the audition, Mr Sher told the judges he was from Pakistan and enjoyed acting, music and hockey.
Mr Therriault declined to say whether he was the same man arrested.