Truth about US collar bomb robbery remains elusive
By Chris Summers
BBC News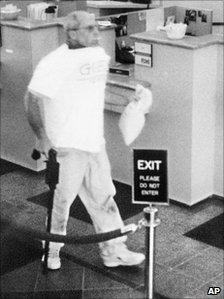 Seven years ago American pizza delivery man Brian Wells was killed when a collar bomb tied around his neck blew up after he had carried out a robbery. On Monday, Marjorie Diehl-Armstrong, 61, was convicted over his death, but the truth about Mr Wells' own involvement remains elusive.
Cameras from a local TV station were rolling on 28 August 2003, as the 46-year-old pizza delivery man pleaded for help from police bomb squad officers.
Mr Wells, armed with a peculiar gun shaped like a walking stick, had just robbed a bank in Erie, Pennsylvania and was surrounded by police officers.
He was wearing a collar device around his neck, which he insisted was a bomb that was about to detonate.
The police have been criticised by his family for the amount of time it took them to call in a bomb squad team.
When they arrived, the collar bomb exploded before they could dismantle it. Mr Wells was killed instantly.
Fortunately WJET-TV, a local ABC affiliate, was not carrying the incident live on television at the time, although video clips of the incident have since been posted on the internet.
But ever since Mr Wells died, detectives, lawyers, friends and relatives of have been trying to piece together the events of that day to find out what really happened.
'Impossible to deactivate'
Assistant United States Attorney Marshall Piccinini said criticism of the police tactics on the day were "invalid".
He told the BBC: "The collar bomb was designed in such a way that any attempt to manually deactivate it would have set it off. The only person who could safely disarm it was the person who created it."
Mr Piccinini said investigators had "waded through a tremendous amount of evidence and spent thousands of hours" to get to the bottom of the incident.
It appears Wells was tricked by friends, or criminal accomplices, into putting on the collar and may have been under the impression it was fake.
Confronted by the truth, he was given several handwritten letters instructing him to steal at least $250,000 from a bank in nearby Summit township, the Erie Times-News reported.
After obtaining just $8,702 from the bank, Wells was stopped by police, but he told them three people had put the bomb on him and forced him to carry out the robbery.
He can be seen on video footage calling out: "Why is nobody trying to get this thing off me?.. I haven't got a lot of time. I'm not lying."
A few seconds later the bomb went off, killing him instantly.
But who was responsible for the collar bomb?
In December 2008 Kenneth Barnes, 54, pleaded guilty and was jailed for 45 years for his role in the robbery.
A second suspect, handyman William Rothstein, died of cancer in 2004 before he could be questioned by police.
Another key player, Marjorie Diehl-Armstrong, 61, has just been convicted for her part in the robbery. During the trial, covered by WJET-TV, she told her story and denied having anything to do with the robbery or Mr Wells' death.
A key witness against her was Barnes, who said she was the prime mover behind the conspiracy and was planning to use her share of the money from the robbery to hire a hitman to kill her own father, Harold Diehl, to claim his inheritance.
Diehl-Armstrong, who suffers from bi-polar disorder, was also convicted of murdering her boyfriend, James Roden, later in 2003. He was the getaway driver and she feared he would expose her role in the crime.
But during her trial she said: "I never asked him to drive a getaway car and that's not the reason he got shot."
Her testimony was laden with expletives but she also caused hilarity on occasion.
When questioned about her narcissistic personality disorder, she said: "I don't go around kissing the mirror. I'm not one who thinks I'm all that and a bag of chips. My husband used to say, 'It's a damn poor dog that doesn't wag its own tail".'
Questions remain about whether Mr Wells himself was an active conspirator. He had been a friend, or at least an acquaintance, of Barnes and Diehl-Armstrong.
Mr Piccinini said: "We have evidence that Mr Wells was at various meetings with the conspirators. And he was witnessed driving from Rothstein's house the day before the robbery.
"He wasn't just an uninvolved target. The family are obviously displeased [by our claims]."
Diehl-Armstrong was convicted of conspiracy to commit a bank robbery and possession of an explosive device in furtherance of a crime. The maximum sentence for the latter charge is life.
Prosecutors believe the collar bomb was used to ensure Mr Wells handed over the money after the robbery and, if he was caught, he could claim he was under duress.
But the dead man's brother has always rejected claims Wells was part of the plot.
John Wells said: "This is pretty much a circus show trial. Trying to incriminate Brian in his own murder is just outrageous."
He has set up his own website in which he solicits help from members of the public who he believes might be able to solve the mystery once and for all.
On his website he claims his brother is no more guilty than Richard Jewell who was cleared of involvement in the 1996 Atlanta Olympics bombing or Dr Steven Hatfill, who was exonerated regarding the 2001 anthrax letters scare.
Related Internet Links
The BBC is not responsible for the content of external sites.