Ray Nagin: 'I should have evacuated New Orleans earlier'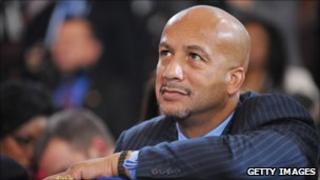 The mayor of New Orleans during Hurricane Katrina says he wishes he had ordered residents of the city to evacuate earlier, before the storm swept in devastating the city.
"There was an eight-hour window when I could have done it [ordered a mandatory evacuation] a little bit earlier," Ray Nagin told the BBC.
"It was the first one that had been done in history of New Orleans."
Mr Nagin was speaking ahead of the fifth anniversary of the disaster that killed 1,836 people and ravaged New Orleans.
As mayor during the storm and the flooding that engulfed the city soon after, Mr Nagin was an impassioned and vociferous critic of the Bush administration's response to the disaster, famously losing his temper during an expletive-laced interview with local radio station WWL-AM.
Blasting the slow pace of federal relief efforts, Mr Nagin said at the time: "I need reinforcements, I need troops, man. I need 500 buses, man... This is a national disaster. Get every doggone Greyhound bus line in the country and get their asses moving to New Orleans."
Reflecting on his outburst today, he says: "For a politician it's never a good thing to lose your control, to lose your temper."
But he thinks his words did have a positive effect.
'Lack of response'
"Something needed to be said," he says. "Certain people were saying that everything was OK, people weren't suffering and I knew different. I was frustrated and lashed out. I guess it helped because we started to get the army, to get some movement."
The Bush administration was accused of racism for the tardy manner in which aid was sent to New Orleans.
Mr Nagin says he has spent a lot of time thinking about why the federal response was so shoddy, and he says he has reached a firm conclusion.
"Race and class played a lot in the lack of response, in the lack of financial support that we're still struggling to get in the city of New Orleans," he says.
"If this had been a much more affluent place, a place that was not as populated by African Americans, I am firmly convinced that it would have been a different kind of response. I'm sorry to say that as an American, but that's the reality we dealt with."
He says that in some ways, the lessons have not been learned.
"When I look at what's happening in Haiti I see a lot of similarities, a lack of response, a lack of rebuilding, slowness of dollars to really flow, to get to the people and impact them in a significant way," he says.
"It really reminds me of what we went through here in New Orleans."
Mr Nagin stood again for New Orleans mayor in 2006. He won, but term limits forced him to stand down in May. The city he once ran is still struggling to recover.
Though the population is growing and there is plenty of construction activity, parts of the Lower Ninth Ward - the area most affected by the hurricane - remain dilapidated, with abandoned houses daubed with signs confirming her unsuitability for habitation.
Mr Nagin says he is confident the city will fully recover. He cites one of the most memorable images he has from those traumatic days in August and September 2005.
"I remember the first time that I flew up in a helicopter to witness the devastation for myself.
"It was beyond anything I could have imagined. I was literally in tears at the end of that flight. I saw people on roofs, trying to throw water to them, dead bodies in the water.
"Then we came up the river and stopped in front of Jackson Square, and I could see that it looked like a postcard. And at that point in time I knew we could rebuild because the cultural assets that make New Orleans so unique were still intact."