US calls for Lockerbie bomber to return to jail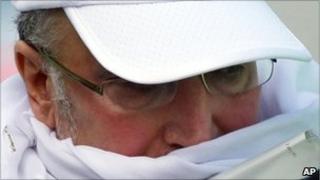 The White House has called for the man convicted in the 1988 Lockerbie bombing to be returned to prison in Scotland.
President Obama's counterterrorism adviser, John Brennan, said the US had expressed "strong conviction" to Scottish officials that Abdelbaset Ali al-Megrahi be brought back to jail.
Scottish ministers freed Megrahi, who has cancer, citing medical advice that he would likely die in three months.
Analysts say the anniversary of his freeing adds weight to the US call.
Mr Brennan called the release of Megrahi, who was set free from prison one year ago, an "unfortunate and inappropriate and wrong decision".
He added: "We've expressed our strong conviction that Megrahi should serve out the remainder - the entirety - of his sentence in a Scottish prison."
Mr Brennan said the US had had productive discussions with Libyan officials and would use "diplomatic channels to convey our sentiments on a broad range of issues to include Mr al-Megrahi".
The BBC's Steve Kingstone, in Washington, says that US position is not new, but it carries additional force - coming form President Obama's counter-terrorism adviser on the anniversary of Megrahi's release.
US Secretary of State Hillary Clinton also said in a statement on Friday that the US continued to "categorically disagree" with the decision to release Megrahi.
"As we have expressed repeatedly to Scottish authorities, we maintain that al-Megrahi should serve out the entirety of his sentence in prison in Scotland. We have and will continue to reiterate this position to the Scottish and Libyan authorities," she said.
The Scottish government says the decision to free Megrahi was taken in good faith.
Following his release from a Scottish prison in August 2009, Megrahi got a hero's welcome in Tripoli.
Of the 270 people who died in the bombing over Lockerbie, Scotland, 189 of them were Americans.
'Outstanding questions'
Meanwhile, a group of US senators says a "cloud of suspicion" still hangs over Megrahi's release.
Senator Robert Menendez called on Britain and Scotland to answer a number of "outstanding questions" over the case.
Mr Menendez said there was anger and frustration in the US that the convicted bomber was "still very much alive and very much free".
In letters to UK Prime Minister David Cameron and Scottish First Minister Alex Salmond, the four US senators setting up an inquiry into issues around the release have reiterated what they call the "persisting uncertainty about medical, legal and diplomatic issues related to" the release.
Scottish Justice Secretary Kenny MacAskill, who took the decision to release Megrahi, has said that he is prepared to meet the US senators.
He said: "What's quite clear is the people of Scotland think the decision should be made here in Scotland, by the justice secretary, and they do believe it was made in good faith without any intervention, or indeed any consideration, of political, diplomatic or economic considerations."
Mr MacAskill has always maintained the decision to release Megrahi followed due process and was in keeping with the ideals of the Scottish justice system.
Megrahi was sentenced to life in prison in 2001 for the bombing.