Two convicted in JFK airport bomb plot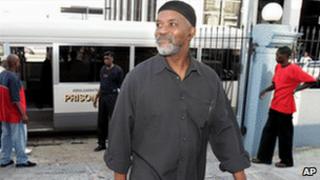 Two men charged with plotting to blow up fuel tanks at New York's JFK Airport have been found guilty.
Prosecutors had said Russell Defreitas and Abdul Kadir planned to cause a huge explosion by igniting the fuel depot and underground pipelines in 2007.
Kadir, a former member of Guyana's parliament, was charged with arranging financing for the plot. Defreitas was a former cargo handler at the airport.
The defence argued that they had been led astray by a police informant.
"I think it was clear these guys couldn't act on their own... and didn't act on their own," Defreitas' attorney Mildred Whalen said.
"We're deeply disappointed."
But prosecutors said the pair had sought the help of militant Islamists, including an al-Qaeda operative, for a plan intended to kill thousands of people.
Prosecutors said they "took concrete steps to make this plan a reality".
They wanted to set off an explosion "so massive... that it could be seen from far, far away", Assistant US Attorney Zainab Ahmad said in closing arguments.
'Chicken farm'
Prosecutors said Defreitas, 67, had shot video and photos of the airport, studied airport security and planned escape routes.
They said that in planning an attack on the airport, Kadir had stressed the economic damage it would cause.
In intercepted conversations, Kadir, an engineer by training, was heard explaining how to cause explosions that would provide enough oxygen to ignite the fuel tanks at the airport, prosecutors said.
At one point, he advised his alleged co-conspirators to use Google Earth software to plan the attack on the airport, which he code-named the "chicken farm", according to court filings.
The case was based in large part on conversations recorded by a convicted drug trafficker who had agreed to act as an informant for the government in exchange for leniency in his own sentence and a stipend, according to the US justice department.
According to court filings, over several weeks in 2006, the informant won Defreitas's trust, and Defreitas brought him into the alleged plot.
The informant and the alleged co-conspirators discussed the plot in the US and during visits to Guyana between late summer 2006 through mid-2007, with the informant recording many of the talks, according to court documents.
Defreitas also took the informant along on surveillance visits at the airport.
Kadir, 58, told the court that he had warned the plotters that Islam "does not support aggression or killing innocent people".
Another co-conspirator heard in the tape recordings, Abdel Nur, pleaded guilty to a lesser charge in the case and is awaiting sentencing.
A fourth, Kareem Ibrahim, was found too ill to stand trial.