Suspected killer grizzly bear captured in Montana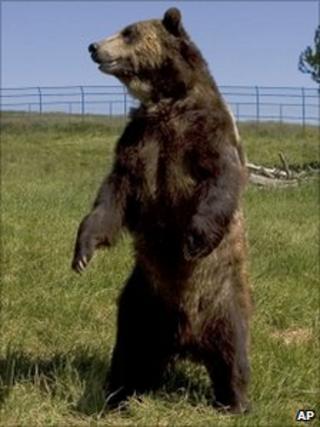 Wildlife authorities have captured a mother grizzly bear that they believe killed a Michigan man and injured two other campers in the north-western US state of Montana.
Authorities say the attack occurred at about 0200 local time (0700 GMT) on Wednesday at Soda Butte Campground, near Yellowstone National Park.
"I told myself, play dead," said Deb Freele, one of the survivors.
Officials later used pieces of the dead man's tent to lure the sow into a trap.
Wildlife officials tested the DNA of the 400lb (181kg) mother bear early on Wednesday and are awaiting the results to confirm if it was involved in the rampage.
But officials say they are confident they have caught the right animal.
Wildlife authorities then left the mother grizzly overnight to attract her three cubs, two of which were caught in adjacent traps on Thursday.
'Grinding teeth'
"Something woke me up, and a split second later, I felt teeth grinding into my arm," Deb Freele of Ontario, Canada, told the Associated Press news agency.
She added: "I decided at that point, the only other thing I knew to do was to play dead, and I just went totally limp, got very quiet, didn't make a sound. And a few seconds later, the bear dropped me and walked away."
Ms Freele and Ronald Singer, a 21-year-old camper whose leg was attacked, were released from hospital on Wednesday after treatment.
Kevin Kammer, 48, was killed when he was pulled out of his tent and dragged 25ft (7.6m) to where his body was found, said Montana Fish, Wildlife and Parks spokesman Bon Aasheim.
Officials say the adult bear will be killed if the DNA test results, expected on Friday, link it to the attacks.