Arizona immigration law set to come in amid protests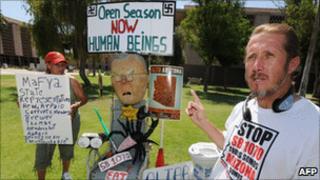 Protesters are expected to stream into Arizona as the state's controversial new anti-illegal immigration law takes effect on Thursday.
The law requires police to query the immigration status of people stopped for a legitimate reason whom they suspect are in the US illegally.
Opponents say it will lead to racial profiling and targeting of Hispanics.
The federal government has challenged the law, and a judge is set to rule on that challenge on Wednesday.
The Obama administration argues the measure usurps the federal government's authority to set immigration policy.
In addition, a Phoenix police officer who fears he will be sued if he enforces the law has challenged it, and the governments of Argentina, Ecuador and Mexico have also asked a court to overturn it.
The Arizona legislation also creates a new state law making it a crime to be in the country illegally and permits police to detain people determined to be illegal aliens.
Controversy over the legislation has turned the eyes of the nation onto a state where about a third of people are foreign born and an estimated 460,000 are illegal immigrants.
Protestors around the country plan vigils and demonstrations, and others will convene in Arizona to bolster local protest efforts.
More than 550 union members and activists are taking buses from southern California, the Los Angeles Times reported. Other protests are reportedly planned for New York City and elsewhere.
"We are waiting for the court to decide, but even if it issues a temporary injunction... we're still going ahead with our protests, because 21 other states want to follow Arizona's footsteps with racist laws" of their own, Paulina Gonzalez, spokeswoman for "We Are All Arizona" group told AFP news agency.
'I'm ready for it'
But the sheriff of the state's most populous county has vowed to jail protesters who he deems cross the line into civil disobedience.
"I'm ready for it," Maricopa County Sheriff Joe Arpaio, known for his "sweeps" of illegal immigrants, said on ABC television. "If they want to block the jail, they can have a trip in the jail. We're not going to put up with any civil disobedience."
Meanwhile, a Nebraska town where voters recently passed a referendum barring illegal immigrants from renting housing decided on Tuesday to suspend the law's implementation.
The city council in Fremont, Nebraska, said delaying the law would save the city money in its effort to defend it against court challenges from liberal legal groups who maintain it would discriminate against people who appear foreign.