US scientist says much surface Gulf oil 'dispersed'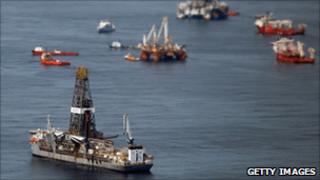 Oil from BP's damaged Gulf of Mexico well is clearing from the sea surface faster than expected, scientists say, 100 days after the disaster began.
Jane Lubchenco, head of the National Oceanic and Atmospheric Administration, said much oil had been "biodegraded by naturally occurring bacteria".
But concerns remain about the spill's unseen effects.
The comments came after BP replaced its embattled CEO Tony Hayward with an American, Robert Dudley.
Mr Dudley described the oil spill as a terrible tragedy from which the company and the industry would learn a lot.
On Tuesday, BP reported a record $17bn (£11bn) loss, having set aside $32bn to cover the costs of the spill.
'Aggressive efforts'
Speaking to reporters on Tuesday evening, Jane Lubchenco said: "We do know that over 600 miles of the Gulf coast shoreline have already been oiled and some remains on the surface, although the amount on the surface is less and less as our very aggressive efforts to contain it have been successful."
The US incident commander, retired Coast Guard Adm Thad Allen, said oil skimming crews were having trouble finding oil to clean up.
"What we're trying to figure out is where is all the oil at and what can we do about it," he said.
"What we're seeing are mats, patties, small concentrations, very hard to detect, but they're out there."
Meanwhile, a report in the Washington Post newspaper suggested the US was establishing a team of investigators to run a criminal inquiry into whether close ties between BP and federal regulators contributed to 20 April disaster.
The team, called the "BP squad," is also looking at Transocean, which operated the rig, and Halliburton, the Houston-Texas based company that cemented the well in the hours before the rig exploded, the Post reported.
Several inquiries are already underway, including a Justice Department investigation and state criminal probes in Louisiana, Mississippi and Alabama.
'Static kill'
On 20 April, the Deepwater Horizon drilling rig exploded in the Gulf of Mexico, killing 11 workers and causing an oil spill that soon became the worst environmental disaster in US history
For three months, a massive slick has threatened the shores of Louisiana and other southern Gulf Coast states.
BP put a cap on the well on 15 July, but at least three million barrels of oil are thought to have leaked into the ocean.
Mr Dudley, who this week was named BP's first American CEO, replacing Tony Hayward, said that by Monday the company would begin a "static kill" effort to plug up the well permanently.
"I believe there will be no more oil spilling into the gulf after the 15th of July," Mr Dudley told US television.