Why some young Puerto Ricans have to face jail or death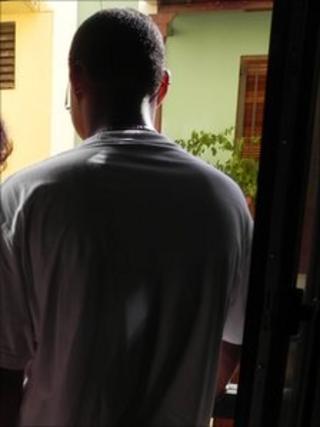 In Puerto Rico's current tough economic climate, some young people find themselves pushed into making dangerous choices.
To look at him, you would not think that Hector was a drug dealer in one of the most dangerous neighbourhoods of the Puerto Rican capital San Juan.
This 19-year-old with his granny glasses, his gentle smile, and a body free of tattoos looks like a university student.
"It helps me do my job," he says. "The police don't think I am a working in a punto."
The punto - a drug corner - is where dealers sell heroin, cocaine and marijuana to a steady stream of customers.
In this one neighbourhood, Las Monjas, there are five puntos operating more or less openly.
This one is on the site of a half-completed house. In the basement, young guys are sitting on broken down sofas, working their cell phones. Buyers of all ages come and go, deals are done, money changes hands.
A dealer ambles by with a storage bag that looks like it is filled with packets of cocaine.
'Die any day'
Hector was born in the US city of Philadelphia and lived there for the first eight years of his life. Then he wanted to see his father, who had returned to the US dependency of Puerto Rico, so he came here to San Juan.
"I got a high school degree in refrigeration," he tells me. "I graduated last year but I didn't find any jobs and my friends told me to make a little money and I started here."
His job when he started was to sell drugs and to keep an eye out for rival gangs. The money is good but the work is dangerous.
"Right now," he says scuffing his feet and laughing nervously, "this is a war and we got to be careful. We could die any day."
Rival gangs fight for turf and market control. The week before a car had pulled up and sprayed Hector's punto with automatic rifle fire.
"My mother would kill me if she knew I'm working in a punto," says Hector. He laughs shyly and then says if he had a son he would not want him here.
"It is not the life I wanted," he says.
High unemployment
We were brought to the drug corner by a community programme, Initiativa Comunitaria, or Community Initiative, which aims to keep young, vulnerable kids from slipping into the drugs trade.
Jacqueline Perez, who runs the programme, says last month 12 boys and young men between the ages of 12 and 21 were murdered in the streets here in Las Monjas.
The government of Puerto Rico recently embarked on a massive austerity programme, with public sector job losses amid the worst recession this island has seen in decades. Unemployment is hovering at 20%.
Jacqueline tells us that funding cuts mean more kids are falling into drug dealing.
"It's very hard," she says, "because we want to see kids able to become someone and have a career and opportunities. But our society thinks kids do not have a future".
That is Hector's story.
Suddenly, the boss of the punto pushes us back against a wall. A car has just driven by and slowed down. It is time for us to clear out.
As we leave, Hector tells me that there is a saying about life in a punto: "Terminas o en la carcel or muerto. You end up in jail or you end up dead." He shrugs his shoulders and smiles.
This edition of Crossing Continents was made in co-operation with The Futuro Media Group who produce the Latino USA radio show for NPR, hosted by Maria Hinojosa. You can hear her Crossing Continents on the BBC World Service and see her TV report on BBC World News America on Thursday 29 July.