US Congress approves new funding for Afghan war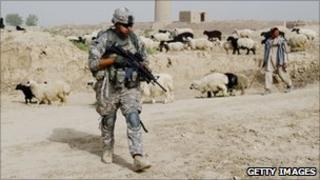 The US House of Representatives has approved funds to pay for President Barack Obama's increase in US troop numbers in Afghanistan.
The 308 to 114 vote comes at a time when some lawmakers are growing sceptical about the nine-year-old war.
The bill, which Mr Obama will sign into law, provides roughly $59bn (£45.4bn) for 30,000 more troops in Afghanistan and other programmes.
Democrats accounted for 102 of the 114 votes opposing the new bill.
"I cannot look at my constituents in the eye and say that this operation will hurt our enemies more than it will hurt us," said Congressman David Obey, Democratic chairman of the House Appropriations Committee.
Mixed opinions
Meanwhile, critics of the war in Afghanistan say the recent leak of military records on the Wikileaks website reinforces their view that the price of the war is too high.
But Republicans and some Democrats say the government has waited too long to pay for the additional troops that Mr Obama is sending to Afghanistan this year.
"Most inexplicable is the six-month delay that has kept our brave troops waiting for far too long," Republican Congressman Harold Rogers said.
Congress has already approved $130bn for the wars in Afghanistan and Iraq this year and has appropriated over $1tn since 2001.
The latest bill includes more than $33.5bn for the additional 30,000 troops in Afghanistan and other military costs and $6.2bn for state department aid programmes in Afghanistan, Pakistan, Iraq and Haiti.
It also provides $13.4bn in benefits for Vietnam veterans exposed to the defoliant Agent Orange.