BP oil spill: Vessels return to site after storm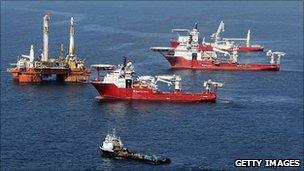 Ships involved in the effort to secure BP's blown-out oil well are preparing to resume work after a tropical storm in the Gulf of Mexico weakened.
Coast Guard chief Adm Thad Allen says the storm put back efforts to drill a relief well by seven to 10 days.
But he said the operation to plug the well by pumping mud through the cap that has stemmed the flow of oil could start in three to five days.
Experts say the choppy seas will have broken up some of the slick.
The storm will also leave some beaches cleaner, said Jane Lubchenco of the National Oceanic and Atmospheric Administration.
The Development Driller 3 - a rig boring into the seabed to make the first of two relief wells - and other ships involved in the clean-up had stopped operating on Friday in advance of the storm.
The first relief well's completion now looks possible by mid-August, said Adm Allen, unless storms cause further evacuations of the site.
"We're going to be playing a cat-and-mouse game for the remainder of the hurricane season," he said.
He said that by Friday, crews could begin pouring heavy mud and cement through the mechanical cap - the first of two stages to create a permanent seal.
The relief tunnel, when it is completed, will then pump in more mud and cement.
Tropical Storm Bonnie diminished into a "disorganised area of showers and thunderstorms" before reaching the area.
The storm caused flooding in Haiti, Puerto Rico and the Dominican Republic. However there were no reports of significant damage as it passed over Florida, and it was downgraded to a tropical depression.
BP spokesman Bryan Ferguson said the Development Driller 3 was on its way back to the spill site.
"The assessment was made that the storm intensity has decreased," Mr Ferguson said. "So the decision was made overnight to return the DD3."
BP placed a containment cap on the well last week and closed it off, stopping the flow for the first time since April, when an explosion on the Deepwater Horizon rig set the crude gushing.
In another development, BP has confirmed it will begin drilling off the Libyan coast in the next few weeks.
BP signed its agreement with Libya in 2007, and has since revealed that it lobbied the British government over a prisoner transfer agreement between the UK and Libya.
But it denies involvement in talks last year over the release of Abdelbaset Ali al-Megrahi, the Libyan convicted of the Lockerbie bombing.
Related Internet Links
The BBC is not responsible for the content of external sites.