Conrad Black displays calmness in court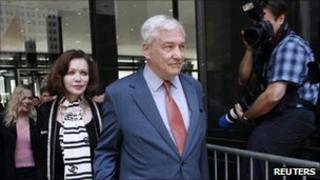 The former newspaper proprietor turned headline maker Conrad Black faced a pack of reporters as he arrived outside the Chicago court, flanked by his elegant wife Barbara Amiel.
He swept into the court without answering the shouted questions.
The man who once owned the Daily Telegraph and Chicago Sun Times is fighting to overturn his 2007 conviction for defrauding investors in the Hollinger Media Group of more than $6m (£3.9m).
Two days ago he was released on bail, after his friend and wealthy philanthropist Roger Hertog posted the required $2m.
Black was in court to hear Judge Amy St Eve set the conditions of his bail.
Dressed in a light blue suit with a pale blue shirt and an orange tie, he appeared calm and thoughtful as he waited for the session to begin, smiling at his wife, and conferring intently with his lawyer.
The man once estimated to be worth $200m swung his black leather chair around as he surveyed the court artists in front of him.
Their drawings of him are now winging their way around the world, as the news agencies distribute them. No cameras are allowed in court.
Attentive and calm
Conrad Black listened carefully as the judge told him he must surrender his expired passport, and stay in the continental United States.
Asked if he understood, he replied briefly "yes, your honour" to each question.
Barbara Amiel watched from the bench as Black's lawyer explained that his client would like to go to his home in Toronto, Canada, as his wife had some health issues which made their Palm Beach house in Florida an unsuitable location during the summer period.
Judge St Eve said she would like more details about Black's financial situation before deciding if he could return to Canada.
She scheduled a court date of 16 August, saying that could be brought forward if the information was available earlier.
Black, who surrendered his Canadian citizenship so he could become a member of the British House of Lords, has always denied that he defrauded investors in the Hollinger group and obstructed the course of justice.
In June, the US Supreme Court ruled that the law under which he was convicted was not used properly by US government prosecutors, who interpreted it too broadly.
That has given Black hope that he will restore his reputation.
So now he must wait for the appeals court to decide whether his fraud conviction still stands in the light of the Supreme Court ruling, or if it will be overturned.
The brief court hearing over, Black and his loyal wife walked past the corridor of reporters once more. He nodded in response to our questions, and was whisked away in a black saloon car.
Even if he clears his name, the US authorities say he owes them $71m in unpaid taxes, a claim challenged by Black who insists he did not live in America and so was not liable for US taxation.