Two inmates killed in Quebec City prison riot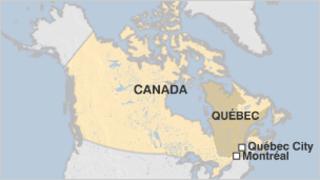 Two inmates have been killed and six injured in a riot in a Quebec prison.
The riot was set off by a "violent altercation" in a wing of the Quebec Detention Centre in Orsainville, north of Quebec City on Wednesday night.
Prisoners set fire to mattresses and clothes, and the inmates' bodies were discovered after the fires were extinguished, officials said.
It was unclear what sparked the riot, said to involve 14 prisoners.
No guards or prison staff were injured.
"Our staff reacted quickly, but unfortunately we have to report that lives were lost," Johanne Beausoleil, spokeswoman for Quebec correctional services told reporters.
She rejected suggestions the prison was overcrowded.
Six inmates were taken to hospital and treated for injuries and smoke inhalation.