Boulder stumbles on the path to going green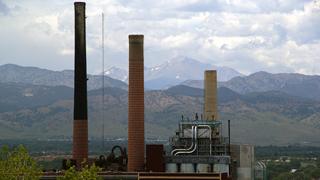 How green can a city really be? Without global change, is it even worth trying?
More than six months after President Barack Obama promised delegates to the climate change talks in Copenhagen that the United States would pass sweeping energy legislation, little has changed.
Senate Majority Leader Harry Reid says he wants Democrats to chart a way forward during a meeting on Thursday, but it is doubtful even modest proposals can get anywhere in Congress before November's mid-term elections.
In the meantime, the city of Boulder, in Colorado, is busy setting an example.
Elissa Guralnick, a self-confessed "liberal lefty", is doing her bit.
At a cost of several thousand dollars, she is insulating her loft, replacing appliances and tackling draughty windows.
A white plastic pipe rattles as chemically-treated cellulose is pumped into her attic from a truck parked outside.
"I like the fact that Boulder is as green a community as it can be," says Ms Guralnick, who teaches literature at the University of Colorado.
"I like the fact that it's forward-looking, and even new-agey."
Changing behaviour
Boulder certainly feels very green. The Rocky Mountains rise up right behind the city. A babbling mountain creek runs through the town. There are lots of beautiful green spaces. Cycle paths run everywhere and the town is, well, littered with recycling bins.
At the twice-weekly farmers' market, where shoppers come for organic produce and fine cheese, city employees offer advice on the "energy vampires" (electric appliances) bumping up their home utility bills.
Responsible members of the city's 100,000 population can rent a "kill-a-watt" meter from the local library.
But for all the solar panels arrayed on the roof of the municipal building on the corner of Broadway and Canyon, the roar of traffic tells a different story.
The people of Boulder are just as wedded to their cars as they are anywhere else in America.
The city has tried hard to try to get people to use public transport. But the buses crossing this busy intersection are all virtually empty.
"Changing behaviour at a community level is not easy and it doesn't happen at a rapid pace," admits Jonathan Koehn, Boulder's regional sustainability co-ordinator, during a tour of some of the city's green initiatives.
For all the subsidised home energy audits, publicity campaigns and the nation's first carbon tax at $21 (£14) per household, the city has discovered that it is actually quite difficult to motivate people.
"We've come to realise that we can put the programmes in place," Mr Koehn says, "but you can't make people take advantage."
Mr Koehn says Boulder is "re-tooling" its programmes to try to take account of what motivates people.
Using a mixture of city funds and federal stimulus money, a programme known as "Two Techs in a Truck" will send technicians into homes and businesses to implement energy-saving measures.
The idea is to make it as easy as possible for people to do the right thing.
Energy dependence
Boulder wants to reduce its carbon emissions by an impressive 80% by 2020, based on 2005 levels. But the city's dependence on fossil fuel, and the fact that it seems to be prospering, despite the recession, mean that so far the target looks overly ambitious.
The city says its emissions have gone down for the past three years, but not by much.
Outside the Valmont power plant, owned by Xcel Energy, vast piles of coal bear witness to the limits of Boulder's ambitions.
Some 64% of its electricity is produced by coal. Thanks to its own hydroelectric facilities, the city's renewable mix accounts for 15% (5% more than Colorado as a whole). Natural gas makes up the remaining 21%.
Mr Koehn says the plant symbolises Boulder's challenge.
"We have embarked on this journey to be as sustainable as we can and reduce our emissions as quickly... as we can. Yet the majority of our energy still comes from burning this coal."
In a bid to take greater control of Boulder's energy sources, the city council will decide on 3 August whether to sign another 20-year agreement with Xcel or embark on the process of becoming a municipal utility.
It's a complex, risky move which has not been made anywhere in the US since 2005, and not in Colorado since 1923.
Roger Pielke, professor of environmental studies at the University of Colorado, says there is a limit to how green a city can become, left to its own devices.
"It turns out that Boulder is showing how very difficult that task is, even in a community as enlightened and forward thinking as Boulder," he says.
A real breakthrough, Prof Pielke says, depends on change at national and international levels.
"At some point we will have to commit the massive amounts of resources into technological innovation that we need to fundamentally change our energy system."
But Boulder's mayor, Susan Osborne, is undaunted.
"It is our city's primary goal," she says. "It's the number one focus of our city council. It infiltrates everything we do."
Come back in five years, Ms Osborne says.
"I think it will be amazing."