US charges man with supporting Somali militants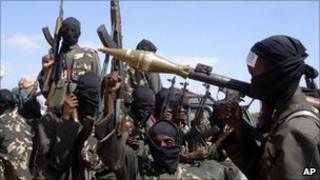 US authorities have charged a man with providing material support to Somali Islamist militant group al-Shabab.
Zachary Adam Chesser, 20, was detained on 10 July as he tried to board a flight to Uganda.
He allegedly told federal agents he had twice tried to go to Somalia to join al-Shabab, which the State Department designated a terrorist group in 2008.
Al-Shabab has taken control of large parts of Somalia and claims to have links with al-Qaeda.
"This case exposes the disturbing reality that extreme radicalisation can happen anywhere, including Northern Virginia," said US Attorney Neil MacBride.
"This young man is accused of seeking to join the Shabab, a brutal terrorist organisation with ties to al-Qaeda. These allegations underscore the need for continued vigilance against homegrown terror threats."
Mr Chesser was also named in court papers as Abu Talhah al-Amrikee.
He allegedly told investigating agents that he maintained several online profiles dedicated to extremist jihad propaganda.
US investigators alleged that Mr Chesser was a follower of radical US-born cleric Anwar al-Awlaki, a radical American Muslim cleric of Yemeni descent who is believed to be in Yemen with al-Qaeda in the Arabian Peninsula.
Mr al-Awlaki is suspected of helping plan the attempted bombing of an airliner over Detroit last Christmas.
Mr Chesser reportedly posted an online warning in April that the creators of the South Park cartoon risked death for an episode that included a caricature of the Prophet Muhammad in a bear suit.
Al-Shabab wants to impose a strict version of Sharia law in Somalia, where they control most of the south and centre of the country. The fragile UN-backed government only controls parts of the capital, Mogadishu.
There have been numerous reports of foreign jihadis flocking to Somalia to join the group.