US spy chief nominee warns of N Korea 'direct attacks'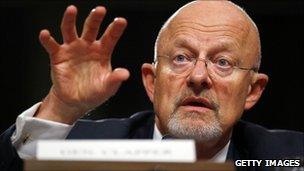 North Korea's sinking of a South Korean warship may herald a "dangerous new period", the nominee to be US director of national intelligence has warned.
James Clapper told a Senate hearing that Pyongyang might seek "to advance its internal and external political goals through direct attacks".
President Barack Obama chose the retired general and under-secretary of defence to be the new DNI in June.
If confirmed, Mr Clapper will replace Adm Dennis Blair, who resigned the previous month after a series of national security failures, including the failure to detect the Christmas Day airline bomb plot.
The DNI is charged with overseeing the 16 agencies that make up the US intelligence community, including the CIA and the NSA.
At his confirmation hearing on Tuesday, Mr Clapper chose to highlight the growing concerns within the agencies about North Korea's recent actions.
He said the sinking of the South Korean corvette Cheonan in March, which a South Korean-led inquiry found was the result of a North Korean torpedo attack, and unsuccessful attempts to assassinate a senior North Korean defector reminded him of the bombing of Korean Airlines Flight 858 in 1987.
"The most important lesson for all of us in the intelligence community from this year's provocations by Pyongyang is to realise that we may be entering a dangerous new period when North Korea will once again attempt to advance its internal and external political goals through direct attacks on our allies in the Republic of Korea."
"Coupled with this is a renewed realisation that North Korea's military forces still pose a threat that cannot be taken lightly," he added.
Earlier, the US and South Korea said they would hold large-scale joint military exercises next weekend in a show of force intended to "send a clear message to North Korea that its aggressive behaviour must stop".
Pyongyang has insisted it had nothing to do with the Cheonan's sinking.
Testifying to the Senate Intelligence Committee, Mr Clapper also brushed aside suggestions that he would beholden to the Pentagon and reluctant to share information about intelligence activities with Congress.
"I would not have agreed to take this position on if I were to be a titular figurehead or a hood ornament," he said.
He also noted that he had been out of uniform for almost 15 years and was once removed as director of the National Geospatial Agency by Donald Rumsfeld for being "too independent".
Mr Clapper said his 46 years of experience working in intelligence made him uniquely qualified for the post of DNI and that he would be able to exercise effective oversight without "going through the trauma" of another reorganisation.
The DNI was created by Congress in 2004 in response to the 11 September 2001 attacks. Before Mr Blair's departure, the president's Intelligence Advisory Board reported that that the department was overstaffed and dysfunctional.
Some critics also say it is not clear whether the DNI has the authority to override decisions made by the individual intelligence agencies.
However, when asked whether he thought he had the power to overrule the CIA director in matters of intelligence, Mr Clapper answered: "I do."
Related Internet Links
The BBC is not responsible for the content of external sites.