Conrad Black lawyer seeks release date hearing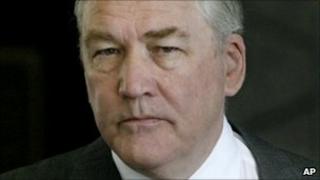 The lawyer of former media tycoon Conrad Black says he is seeking a date for the bail hearing at which a judge will set conditions for Black's release.
On Monday, a US appeals court granted Black bail pending an appeal against his fraud conviction.
The British peer has served more than two years of a 78-month sentence.
His bail conditions are to be determined by a district court judge in Chicago.
Last month, the US Supreme Court found that the three counts of fraud were based on a vague piece of US law that was interpreted too broadly by the prosecution.
According to Monday's ruling by the Seventh Circuit Court of Appeals, the terms of Black's bail will be determined by Judge Amy St Eve of the District Court in Chicago, who oversaw his original trial.
Before the Supreme Court ruling, prosecutors had said Black should remain in jail because it would not affect the obstruction of justice conviction.
Black and three other former executives of media empire Hollinger International were convicted in 2007 of defrauding shareholders of $6.1m.
They were found to have paid themselves tax-free bonuses from the sale of newspaper assets without the approval of the company's board.
In addition, Black was convicted on one count of obstructing justice, after being recorded on videotape removing documents from his office in Toronto after US regulators had informed him he was under investigation.
He has vigorously protested his innocence from the beginning.
Under Black's leadership, Hollinger became one of the largest media companies in the world, acquiring the Chicago Sun-Times, the UK's Daily Telegraph, the Jerusalem Post and hundreds of community papers in the US and Canada.
Black, born in 1944 in Montreal, renounced his Canadian citizenship in 2001 so he could become a member of the House of Lords.