Lawmaker seeks to defrock 'toxic' official state rock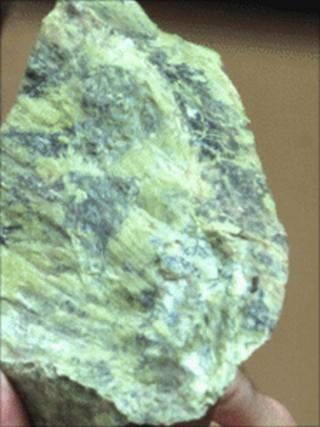 A California lawmaker hopes to remove serpentine's designation as the state's official rock.
The olive green rock contains traces of asbestos, and the lawmaker says taking away its status will raise awareness of diseases linked to asbestos.
"California should not designate a rock known to be toxic to the health of its residents as the state's official rock," proposed legislation states.
Geologists have protested against the move, saying the rock is harmless.
The legislation was filed by state Senator Gloria Romero, a Los Angeles Democrat, following a lengthy campaign by organisations that promote awareness of diseases caused by asbestos.
It passed the state Senate and is now being considered by the state Assembly, the legislature's lower chamber.
California once had a rich asbestos mining industry and serpentine was named the official state rock in 1965, after lobbying by asbestos interest groups.
Raising awareness
The fire-resistent fibre was used extensively in the 20th Century in many aspects of building, and can be found in floor tiles, textured ceiling coatings and in the lining of boiler cupboards.
But health authorities say it can cause several life-threatening respiratory diseases, including lung cancer, in workers exposed to it - sometimes decades later.
Asbestos is no longer mined in the US and its use in construction has declined dramatically.
"The symbolic removal of it as the state rock is only about raising awareness about the dangers of asbestos and the countless families and victims [who] are paying the ultimate price," the Asbestos Disease Awareness Organization wrote on its website.
But geologists say the official designation helps drive interest in science and point out that not all serpentine contains asbestos fibres.
"There is no way anyone is going to get bothered by casual exposure to that kind of rock," former US government geologist Malcolm Ross told the New York Times, "unless they were breaking it up with a sledgehammer year after year."