West Virginia Governor Manchin appoints aide to Senate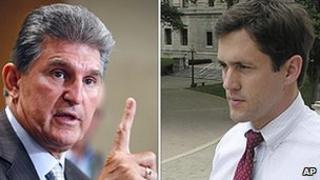 West Virginia Governor Joe Manchin has appointed a former aide to a US Senate seat left vacant by the death last month of longtime Senator Robert Byrd.
Carte Goodwin is Mr Manchin's former chief counsel and, at 36, will be the Senate's youngest member.
Mr Goodwin, a Democrat like Mr Byrd, hails from a prominent West Virginia political family.
He is seen by analysts as a placeholder so Gov Manchin can succeed him in a November election for the seat.
"I am genuinely confident that Carte Goodwin will look out for West Virginia," Gov Manchin said in a news conference in West Virginia.
"I know West Virginia is better off since he's passed this way."
Gov Manchin wants to hold a special election in November to fill the remaining two years of Mr Byrd's term, succeeding Mr Goodwin.
Mr Goodwin said he would not run, and Gov Manchin has said he is likely to run for the seat but has yet to announce definite plans.
Mr Byrd's death last month, at age 92, leaves the Democrats battling to retain another seat in the Senate.
Including Mr Goodwin, the party holds a 59 to 41 majority but is expected to lose seats in November's mid-term elections.
Under US Senate rules, 60 votes are needed to ensure the passage of almost every piece of substantive legislation.