US puts Muslim cleric on terror blacklist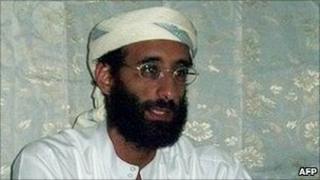 Washington has added a US-born Muslim cleric linked to al-Qaeda to its terrorism blacklist and imposed financial sanctions on him.
The move would freeze any US assets of Anwar al-Awlaki, prevent him from travelling to the US and bar Americans from sending him money.
Mr al-Awlaki is suspected of helping plan the failed bombing of an airliner over Detroit last Christmas.
He is thought to be in Yemen with al-Qaeda in the Arabian Peninsula.
US officials have warned Yemen is becoming a safe haven for al-Qaeda militants.
He is also thought to have exchanged e-mails with an army officer charged with killing 13 people last November at a military base in Texas.
In April the US government authorised his capture or killing and now the US treasury department has placed him on its list of Specially Designated Global Terrorists.
"Anwar al-Awlaki has proven that he is extraordinarily dangerous, committed to carrying out deadly attacks on Americans and others worldwide," said Stuart Levey, the treasury undersecretary for terrorism and financial intelligence.
"He has involved himself in every aspect of the supply chain of terrorism - fund-raising for terrorist groups, recruiting and training operatives, and planning and ordering attacks on innocents," Mr Levey said in a statement.
The Treasury also said that Mr al-Awlaki had pledged an oath of loyalty to al-Qaeda in the Arabian Peninsula (AQAP) and "facilitated training at camps in Yemen in support of acts of terrorism and helped focus AQAP's attention on planning attacks on US interests".
Umar Farouk Abdulmutallab was arrested on Christmas Day last year after allegedly trying to blow up a plane he was on that was travelling to Detroit.
The treasury said he had met Mr al-Awlaki and received instructions from him weeks before the failed attack.