Row over Canada F-35 fighter jet order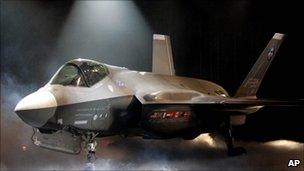 Canada's purchase of 65 new F-35 Joint Strike Fighter jets for 9bn Canadian dollars ($8.5bn; £5.6bn) is proving controversial.
The contract with US company Lockheed Martin was signed without a competitive bidding process, drawing fire from Canada's opposition party.
Liberal leader Michael Ignatieff said, if elected, his government would put a hold on the contract.
The jets will replace Canada's ageing fleet of CF-18s.
"At a time when the Conservatives are also signalling significant cuts to Veterans Affairs, a $16bn [Canadian dollars] sole-sourced contract, agreed to without transparency, can't be allowed to proceed," Mr Ignatieff said in a statement.
But Prime Minister Stephen Harper's government defended the purchase at a press conference, where a prototype of the plane was unveiled.
"We need to ensure our fighter aircraft fleet remains the best in the world to meet the threats of the 21st Century," defence minister Peter MacKay said.
Maintenance of the planes for 20 years is also included in the contract, but that cost has not yet been disclosed.
Media reports estimate that maintenance could bring the total cost to Canadian $16bn.
The planes will be the fifth generation of Joint Strike Fighters. Canada has worked with the US on the development of these fighter planes for over a decade.