Jay Carney named next White House press secretary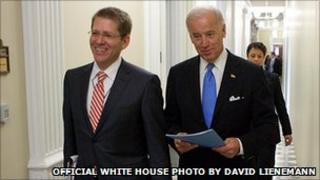 The US vice-president's communications director Jay Carney has been named as the next White House press secretary, to replace Robert Gibbs.
Mr Gibbs said in an email that the handover would take place in the next few weeks.
The decision to pick Mr Carney, a 45-year-old former journalist, is part of a raft of personnel changes at the White House.
Mr Gibbs said earlier this month he would leave his post in late February.
Mr Carney, currently US Vice President Joe Biden's communications chief, covered the presidencies of Bill Clinton and George W Bush for Time magazine.
The president reportedly met with Mr Carney over the weekend to discuss the position.
Relative newcomer
Mr Carney, who is a newcomer to the president's inner circle, is well connected within the Washington press corps and has played a crucial role in many of the administration's public relations moves during the last two years.
Mr Carney will be joining a host of other new faces inside the White House, including Bill Daley, Mr Obama's chief of staff, and David Plouffe, the president's top political adviser in the West Wing.
The former journalist is married to Claire Shipman, an ABC News reporter and former White House correspondent.
Mr Gibbs is considered a close confidant to Mr Obama and will become an outside adviser for the president as the 2012 election approaches.
Among other 14 personnel changes, White House Chief of Staff Bill Daley said Alyssa Mastromonaco and Nancy-Ann DeParle will be promoted to the positions of deputy chiefs of staff and Rob Nabors will assume the roll of legislative director to the president.
"I believe these decisions will bring greater clarity to our structure and roles and will enhance coordination and collaboration among us," Mr Daley said in a memo announcing the changes.