Last words of America's condemned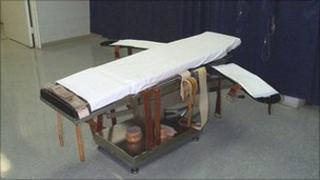 Strapped to a gurney and flanked by several execution officers, US convict Teresa Lewis uttered her last words.
"I just want Kathy to know I love you and I'm very sorry," she said.
Eight years earlier the 41-year-old grandmother had hired two hitmen to murder her husband and step-son so she could access $250,000 in insurance money.
Although she had not pulled the trigger, the judge who sentenced her to death called her "the head of this snake".
The murders left Kathy Clifton, Lewis' step-daughter, the lone surviving family member.
Lewis' words were relayed by a Virginia prison official to the media pack waiting outside, to be disseminated around the world.
It is a legal requirement that the condemned are given the opportunity to make a final statement.
But what purpose does this serve? And why might we be interested in what they have to say?
Frank Green, a journalist with the Richmond Times-Dispatch, a local newspaper, was one of four reporters to witness Lewis' death by lethal injection.
He has been covering the death penalty in Virginia since 1982. In that time, he says, he has witnessed up to a dozen executions.
It was important that Teresa Lewis's last words were recorded, he says.
"I think she was sincerely sorry and she used her last opportunity to speak to the person she hurt the most who was still alive... we have to assume she was being honest."
But some others who have died at the hands of the state have said "frivolous things" or refused to respond, he acknowledges.
Edge of oblivion
Since pre-colonial times, more than 16,000 people have been executed in the US. Most of their final thoughts are lost to history - as they were either denied a final statement or the records have been lost.
In his book Last Words of the Executed, Robert K Elder has collated the final statements of hundreds of condemned Americans.
"It's human curiosity; What does one say on the edge of oblivion?" says Mr Elder, a Chicago-based journalist at Patch.com.
"There is a Christian belief that those on the edge of the abyss have an insight that the rest of us do not have," he says.
"There is an expectation for someone's last words to be poignant or a summation of life experience. We want them to reveal secrets, but they rarely do," he says.
Teresa Lewis was the first woman to be executed in Virginia for nearly 100 years. There were several reasons that made her case controversial, including her low IQ.
"Perhaps because there are historically so few of them - the last words of executed women always seem more memorable," says Mr Elder.
As in the case of executed men, their last words may be apologetic, angry - and sometimes as strange.
Take, for example, the final statement of Aileen Wuornos, a serial killer executed for murder in Florida in 2002 and subject of the 2003 film, Monster.
"I'd just like to say I'm sailing with the Rock and I'll be back like Independence Day with Jesus, June 6, like the movie, big mothership and all. I'll be back," she said.
Before Louise Peete faced the gas chamber for murder in 1947, she told reporters: "The governor is a gentleman - and no gentleman could send a lady to her death."
He did, of course.
Sarah Good, who went to the gallows on witchcraft charges in 1692, protested her innocence to the last.
"I am no more a witch than you are a wizard, and if you take away my life, God will give you blood to drink," she said.
The last laugh
The right to make a final statement serves a legal function. But within a Christian framework it is also a sign of spiritual mercy - a confession allows the stain to be wiped from the soul, says Mr Elder.
Some, like Teresa Lewis, have accepted their fate and used their final opportunity to repent.
"I am so sorry for what all of you had to go through. I can't imagine losing two children. If I was y'all, I would have killed me," said a Texan, who had murdered his son's former girlfriend and her sister, as he prepared for lethal injection.
But other final statements are remarkable for their fury and venom.
"Kiss my ass," were the last words of one of the most notorious serial killers in US history, John Wayne Gacy, who was convicted for the murder of 33 boys, and died by lethal injection in 1994.
What emerges is a spectrum of human personalities. Some have employed humour in the face of death.
One man before the firing squad requested a bulletproof vest.
Stephen King, better known as Joe Hill, made a rambling and awkward speech but his final word before the marksmen pulled their triggers was "fire!"
"I wish you'd hurry up. I want to get to hell in time for dinner," a 19th Century Wyoming murderer told his hangman.
Three men used their final breath to cheer for their favourite football team.
Patrick Bryan Knight, who was put to death for the 1991 abductions and fatal shootings of his neighbours, said he would tell a joke and asked the public to write to him with suggestions.
In the end he attempted to have the last laugh saying: "I am not Patrick Bryan Knight and y'all can't stop this execution now. Go ahead, I'm finished."
A prison spokeswoman disputed his claim of mistaken identity, saying that all prisoners were fingerprinted.
Cultural value?
Last words "tend to be of their own time", says Mr Elder.
In the 1920s during prohibition, several of those executed blamed the drink and warned against womanising.
In recent years, some have been overtly political, railing against the death penalty itself, which remains a deeply divisive issue in the US.
Elder's book is a record of what the condemned chose to do with the final moments of their lives.
And the words themselves offer a glimpse into the lives and the minds of those who have committed unimaginable acts.