TV networks reject controversial '9/11 mosque' ad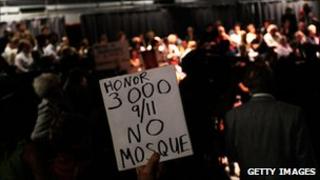 Two US TV networks have refused to air a controversial advert condemning plans to build a mosque near the site of the 9/11 terror attacks in New York.
The advert is funded by the National Republican Trust, a conservative group not affiliated to the Republican Party.
Entitled "Kill the Ground Zero Mosque", the video calls the proposed mosque a "monstrosity" that will invite further attacks on the US.
The advertisement has received over 100,000 page views on YouTube.
Neither CBS nor NBC, two of the major US television networks, will screen the advert. It is unclear what other networks will decide to do.
In emails obtained by the news website Politico, NBC Universal advertising standards manager Jennifer Riley wrote that because it did not make a distinction between terror groups and the religious organisation behind the mosque, "the ad is not acceptable under our guidelines for broadcast".
The advert uses dramatic images of the World Trade Center attacks and images of rejoicing Islamic militants set to a soundtrack of Muslim prayer.
A narrator announces: "On 11 September, they declared war against us. And to celebrate that murder of 3,000 Americans, they want to build a monstrous 13-storey mosque at Ground Zero. This ground is sacred. Where we weep, they rejoice. That mosque is a monument to their victory and an invitation for more."
The National Republican Trust is a conservative political action committee (PAC), an organisation formed to promote its members' views on selected issues.
Tough opposition
The mosque also faces stiff resistance from some sectors of the Manhattan community.
Some opponents are attempting to have the proposed mosque site declared a city landmark, a designation which would prevent it being developed.
Republican Congressman Peter King and the Republican candidate for governor of New York, Rick Lazio, have called for an investigation into the funding for the mosque.
Mayor Michael Bloomberg, an independent, dismissed these calls as "un-American".