Tea Party activists fund sign linking Obama to Hitler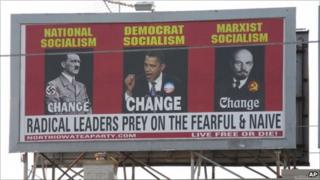 A billboard advert in the US state of Iowa that linked President Obama to Adolf Hitler and Vladimir Lenin was removed on Wednesday morning.
The sign, which was funded by a group of local Tea Party activists, has been replaced with a community service announcement.
Text on the sign had read: "Radical leaders prey on the fearful & naive."
The billboard had angered many in the local community, including other Tea Party activists.
A representative of the Iowa group called the billboard's owner and requested the sign be removed on Tuesday evening.
A national Tea Party representative had called the controversial poster a waste of money, time and resources.
"It's not going to help our cause. It's going to make people think that the Tea Party is full of a bunch of right-wing fringe people, and that's not true," Shelby Blakely, of the national Tea Party Patriots group, told the Associated Press agency.
"When you compare Obama to Hitler, that to me does a disservice to the Jews who both survived and died in the Holocaust and to the Germans who lived under Nazi regime rule," Mr Blakely said.
A spokesperson for the 200-person group that organised the billboard said it was intended to critique socialism, but admits that their message was overshadowed by the fascist images.
Tea Party condemned
On Tuesday, America's largest civil rights group passed a resolution condemning the Tea Party for tolerating racism and bigotry.
The National Association for the Advancement of Colored People (NAACP) has not released the language of the motion, but a spokesperson has said that it calls on Tea Party members to "repudiate the racist element and activities within the Tea Party".
"We don't have a problem with the Tea Party's existence. We have an issue with their acceptance and welcoming of white supremacists into their organisations," said Ben Jealous, NAACP President.
Sarah Palin has responded to the resolution on her Facebook page.
"The charge that Tea Party Americans judge people by the colour of their skin is false, appalling, and is a regressive and diversionary tactic to change the subject at hand," Mrs Palin wrote.