Survivors of Rana Plaza collapse wait for compensation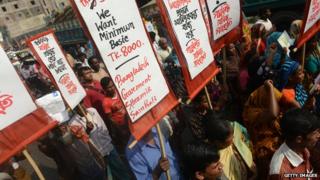 Lily Akhter Najma lost her husband in the Rana Plaza collapse and suffered minor injuries herself.
But, like thousands of other survivors of the disaster, she is still waiting patiently for the compensation to which she is entitled.
One year on, she has not received any compensation from her former employers, nor has she received anything from the government. Only handouts from various charitable organisations and labour groups have kept her going.
She has visited the local administration and told them she hadn't received any money, even though her husband's name was fourth on their list.
''They said I'd get the money, they'd call me. Every time I go there, they tell me the same thing,'' Ms Najma says.
She is now due to receive the first instalment of compensation from a trust fund set up last September in Geneva under the chairmanship of the International Labour Organisation. Ms Najma will be among some 3,600 workers who have been registered since March for compensation.
But even after a year, the compensation scenario remains murky.
Not enough money
The Rana Plaza Coordination Committee, which created the Donors' Trust Fund, says US$40m (£24m) will be needed to meet compensation needs.
But to date, just over $17m had been pledged by donors, with the UK's Primark accounting for nearly half of it.
The fund kicked off the distribution of money with an initial payment of $650 to each of the claimants. Later, complicated calculations based on the claimants' age, potential earnings, number of dependents and other criteria will determine individual amounts.
It is relying heavily on contributions from the 29 international brands and retailers, which sourced their products from the four factories located in Rana Plaza, to meet their target.
But so far less than half the brands and retailers have pledged money.
Matters have been made more complicated by the unwillingness of the factory owners' body, the Bangladesh Garments Manufacturers and Exporters Association (BGMEA) to contribute to the trust fund.
The BGMEA is a member of the Geneva-based coordination committee, but feels they have already done enough to help the victims of the disaster, and compensation should now be paid by the buyers.
''Whatever has been done from day one, has been done by the BGMEA,'' says the association's vice-president Shahidullah Azim.
Mr Azim says in the absence of the factory owners who are all in jail, the association has taken it upon itself to meet the employers' legal obligations and already spent nearly $2m.
These included three months' salary paid to more than 3,000 workers who lost their jobs, treatment of the wounded and contribution to a benevolent fund set up by the prime minister to help families of the dead.
But such arguments are not cutting any ice with major labour groups working with the International Labour Organization (ILO) and major brands such as Primark to provide compensation to the Rana Plaza workers.
Whose responsibility?
''The owners lack a moral sense of responsibility,'' says Syed Sultanuddin Ahmed, executive director at Bangladesh Institute of Labour Studies.
''They think if they participate in the compensation fund, then that would mean they are responsible for this disaster,'' he says.
Mr Ahmed points out that paying for wounded workers' treatment is the employers' responsibility and is not part of compensation. He also says various individuals and organisations have given money to the prime minister's fund, and the BGMEA's contribution cannot be seen as compensation.
IndustriALL Global Union is a key member of the coordination committee. The president of its Bangladesh council, Roy Ramesh Chandra says big US retailers are not too keen on contributing directly to a compensation fund. Walmart has given some money out to a US subsidiary of BRAC, a Bangladeshi charity which is contributing to the trust fund.
But campaigners have called for it - and companies such as JC Penney, which is yet to contribute - to give more.
Mr Chandra thinks his hands would be strengthened if the BGMEA as well as the Bangladesh government contributed to the fund.
''The owners have primary responsibility. We are using our influence abroad to generate funds which will help the industry itself, so they should come forward and contribute,'' he says.
Critics add that many retailers, particularly US ones, are wary of committing to a process which could land them with legal obligations.
I spent two days under the rubble craving water. I did not know when it was day or when it was night"
GMB Akash
According to Bangladeshi law, compensation is supposed to come from employers, not buyers of products the workers produce.
A law dating back to 1925 says the courts would determine the amount to be paid, based on certain criteria. A more recent law sets a lower limit for compensation but no upper limit. Both the laws put the onus on the employer to pay the compensation.
The trust fund, however, will use the ILO's convention to calculate the amount of compensation to be paid to individual victims. This, the IndustriALL's Bangladesh council chief says, would not violate or challenge local laws.
''Bangladeshi garments workers are workers in a global market, therefore their compensation has to be given in accordance with global standards,'' Mr Chandra says.
''We want to create a permanent standard, in compliance with both national laws and the ILO convention, so that this can be the template for compensation this time as well in the future,'' he says.
Compensation not charity
The collapse of Rana Plaza killed 1,135 people, and left thousands of others nursing physical as well as psychological wounds. Some were maimed for life. Many families were left without their main breadwinner.
In the immediate aftermath of the disaster, there was an outpouring of public outrage coupled with sympathy for the survivors. Many organisations and individuals came forward with help, financial as well as material.
Since then, the Prime Minister's Fund has given help to families of 962 workers who lost their lives, while 173 others are still to be positively identified. Some 36 workers who had lost limbs have been given substantial assistance from the government.
But like Lily Akhter Najma, most survivors have had to rely on donations from various charities to survive.
They are now looking towards the ILO-managed trust fund to get meaningful compensation which they can view as their entitlement rather than a charitable handout.