India's Narendra Modi lays foundation stone for 'world's tallest statue'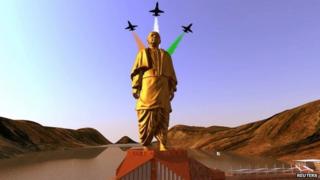 Work has begun in India on what is billed as the "world's tallest statue" after Chief Minister Narendra Modi laid the foundation stone in the western state of Gujarat.
The statue of Sardar Vallabhbhai Patel, one of India's independence heroes, is being erected on a river island.
At 182m (597ft), it would be twice as high as New York's Statue of Liberty.
But critics say the statue's 20.63bn-rupee ($336m; £210m) price tag is much too expensive.
The memorial would be called the "Statue of Unity". Officials say the statue is expected to be ready in 42 months. Thursday is Patel's 138th birth anniversary.
Sardar Patel, generally called the "Iron Man of India", played a major role in the country's fight for independence from British rule.
He was a close friend and ally of Mahatma Gandhi and became the first home minister of independent India.
Correspondents say the statue is viewed as a direct challenge by Mr Modi, the prime ministerial candidate for India's main opposition Bharatiya Janata Party (BJP), to appropriate the mantle of Patel, who was associated with the governing Congress party.
Earlier this week, Mr Modi said that Patel would have been a much better choice than Jawaharlal Nehru as India's first prime minister.
The comment was seen as a dig at the country's Nehru-Gandhi dynasty, led by Congress party chief Sonia and her son Rahul, who are descended through Nehru.
The family has ruled for most of India's post-independence history.
Narendra Modi is a controversial figure who has been credited for bringing prosperity and development to the state of Gujarat but who has also been accused of complicity in some of the worst religious riots in recent Indian history. Mr Modi has always denied any wrongdoing.