South Korea apology for Yoon Chang-jung US sex scandal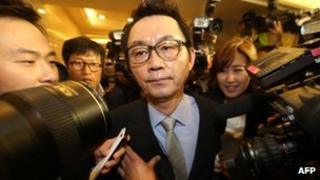 South Korea's presidential office has apologised after an official was sacked during a US visit over "shameful" sexual harassment allegations.
Yoon Chang-jung, who was a spokesman for President Park Geun-hye, was alleged to have groped a Korean-American intern in a Washington hotel.
The incident overshadowed President Park's first visit to the US last week.
Her former spokesman denies sexually harassing the intern, putting it down to "cultural differences".
President Park's chief-of-staff, Huh Tae-yeol, told reporters on Sunday that the case was "unconditionally wrong" and "unacceptable" and he apologised to the victim, her family and all South Koreans.
The unnamed intern, in her early 20s, was said to have been employed by South Korea's embassy specifically for President Park's four-day trip. The incident was said to have taken place in a hotel bar not far from the embassy.
A police report obtained by the Washington Post and Yonhap news agency said a 56-year-old man had "grabbed her buttocks without permission".
Mr Yoon, 56, told a televised news conference on Saturday that "if I have hurt her, I ask for her understanding and offer an apology".
The former spokesman, an ex-newspaper columnist, also apologised for the harm he had caused "to the accomplishments of the successful US visit".
During the trip, President Park's first foreign visit since taking office in February, she held a summit with President Barack Obama.
Mr Obama said that they both agreed on the need to "maintain a strong deterrent" towards North Korea and were not going to reward "provocative behaviour".