South Korea press cynical of Kim Jong-un's speech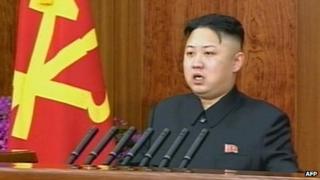 Economic reforms, a wish to improve relations with South Korea and avoiding open criticism of the US - these are not the stances North Korean leaders usually take in their speeches.
But this is what Kim Jong-un did in his recorded New Year message broadcast on state-run TV and radio stations. He praised officials for the recent rocket launch and also sought to improve the country's economy with a focus on light industries and agriculture.
Most South Korean papers published excerpts from his speech and commented on the "unusual" unification remark made by the young leader.
Mr Kim said unification was the "most urgent assignment" and it "can no longer be delayed". The rare gesture struck a chord in the South Korean press, but there was a hint of cynicism.
South Korea's oldest newspaper Chosun Ilbo said the young leader's speech "held out little in the way of promise of immediate reforms", but it struck "an unusually conciliatory note in the isolated country's belligerent rhetoric".
Dong-A Ilbo took a more critical view of his speech, saying "the North merely alluded that it hopes to hold dialogue and stopped short of making specific suggestions".
"Kim's address was rare in that he didn't mention the North's habitual demand for the withdrawal of US troops (from South Korea). This year's address is the most soft-toned I've ever seen looking back over New Year's addresses and editorials over the last two decades," Ryu Dong-ryul of Seoul-based Police Policy Institute told Chosun Ilbo.
JoongAng Daily said it would welcome the move "if North Korea genuinely launches a reform drive as without it we can hardly expect a full-fledged promotion of inter-Korean relations".
Why now?
His speech comes against the backdrop of Park Geun-Hye's victory in South Korea's presidential elections. She is set to become South Korea first female president and has made pledges to start unconditional talks with the regime in Pyongyang.
She is not completely unknown to the diplomatic manoeuvring of North Korean leaders. In 2002, she visited Pyongyang as chairwoman of the Europe-Korea Foundation and held talks with late Kim Jong-il.
Analysts and editorial writers see a link between Mr Kim's reconciliatory tone and Miss Park's election victory.
An editorial in JoongAng daily said Mr Kim "probably has in mind President-elect Park Geun-hye's campaign pledges to improve inter-Korean ties".
Dong-A Ilbo said North Korea "internally might have made a strategic judgment" of resuming dialogue with President-elect Park, who has pledged no preconditions for restarting inter-Korean talks".
The isolated country's dire economic condition seems to have played a role in Mr Kim's softer approach.
But commentators say making positive noises will not solve Pyongyang's economic woes.
"If Pyongyang wants to ensure that none of its people go hungry as it has openly pledged, it must first present specific measures for economic reform," Dong-A Ilbo said.
Seeking authority
Pyongyang's New Year's message for the first time in nearly two decades came in the form of an authoritative speech by the country's top leader, underscoring the regime's efforts to portray Kim Jong-un as a bold and dynamic leader reminiscent of the late leader Kim Il-sung.
The Korea Herald said Mr Kim is "seeking to carry on his grandfather's legacy by mimicking his gestures and appearance to invoke North Koreans' nostalgia for the relatively well-off era of the late autocrat".
Rodong Sinmum, the daily newspaper of the North's authoritative party, filled its first two pages with reports of Mr Kim's message, reflecting the prominent coverage given by the country's media to their leader's speech.
This buoys the state media's constant efforts to draw parallels between Kim Jong-un and his grandfather, in an apparent bid to milk the familiarity and admiration North Koreans have for the country's founder.
However, Dong A-Ilbo was not sure if this strategy would work. "If the leader merely seeks to mimic his grandfather, the Stalinist state cannot catch up with the world, which is evolving at light speed," the paper said.
BBC Monitoring reports and analyses news from TV, radio, web and print media around the world. For more reports from BBC Monitoring, click here. You can follow BBC Monitoring on Twitter and Facebook.