Delhi rape death sparks Indian press rage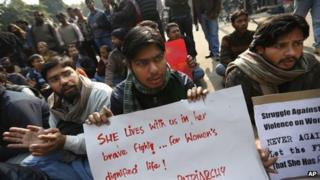 A sense of anger pervades the Indian press on Saturday after the 23-year old victim of a gang-rape in Delhi died of her injuries while receiving treatment in Singapore.
News of the attack on 16 December was greeted with fury in the capital, as demonstrators took to the streets to voice their frustration at the authorities.
This frustration is reflected in the words of newspaper commentators who link the incident and its fallout to prevailing cultural shortcomings and a general failure of governance in India.
One paper also calls upon readers to remember the victims of lower-profile cases of rape, particularly those which occur within the family.
Deccan Herald
"The discussion that has attended the protests have subjected Indian society to the most cauterizing of examinations, in which everything - government, political parties, the police and traditional attitudes toward women - is held up through the prism of violated women... Cities are seen both as a place where success can be achieved and where traditional respect for fathers gives way to life in a space where male hedonism can be indulged. For the six drunkards on the New Delhi bus ride, a rape and a beating were folded into a fun night out. Female empowerment has unsettled men everywhere."
Daily Pioneer
[The attack] "fell on an explosive heap of accumulated rage building up among the public over complete non-delivery of governance... The environment, particularly the cultural one, pays a critical role in shaping attitudes. Increasingly, the market economy and the way of life it promotes through advertising, which use women's sexuality to attract attention to products and services, are creating a climate in which women are seen as objects of sexual gratification that have to be grabbed by force if necessary. Hardly surprising that the incidence of rape is rising alarmingly.
Asian Age
"Not one of the political parties appears to be in the mood to take action against leaders who have denigrated women in shockingly insensitive comments after a 23-year-old woman was gang-raped in Delhi."
Times of India
"When I look at the thousands of protesters on the streets demanding a firm law, more policing and justice for the rape victim, my thoughts go to a place where rape is born, in our very homes... I look around to see a million women silently living each day the horrific incident that happened to them, not by a stranger but by a loved one. An uncle, a husband maybe a grandfather or a father. But they live in silence because that is what they were taught."
Navbharat Times
"We need to repent. And repentance would not be in hanging the accused or castrating them. Repentance will be in ensuring that no-one else goes through what she had to. Repentance would be in strengthening our governance and judicial system so that it provides justice to all the girls who have been the victim of such inhuman exploitation."
Dainik Jagran
"Now that the victim has died there is no change in the attitude of the leaders. The several shameless comments from leaders on this matter show how inconsiderate they are... Her death has left many questions which will have to be answered by every person living in this society. They will also have to be answered by those who instead of debating such issues in the parliament get rid of their responsibilities by issuing emotionless condolence messages. And those who are known as the protectors of law."
BBC Monitoring reports and analyses news from TV, radio, web and print media around the world. For more reports from BBC Monitoring, click here. You can follow BBC Monitoring on Twitter and Facebook.