Bali drug charges inaccurate, says Briton Lindsay Sandiford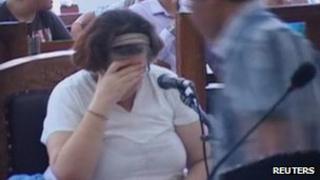 A Briton facing drug charges in Indonesia has told a Bali court there are many inaccuracies in the prosecution's case.
Lindsay Sandiford from Gloucestershire, is charged with selling or facilitating the sale of more than 5g of narcotics.
Mrs Sandiford, 56, originally from Redcar, Teesside, appeared without a lawyer, saying she would respond at her next hearing on 10 October.
The court will appoint a lawyer for her if she does not have one by then.
Mrs Sandiford, who was born in Redcar, Teesside, covered her head with a blue scarf to keep it hidden from the cameras.
It was her second appearance without a lawyer. Her first appearance was last week, and the hearing was immediately postponed because she did not have a lawyer.
On Thursday judges said that since she has had a week to find one, the court proceedings would go ahead.
Mrs Sandiford has been moved to Bali's Kerobokan prison, where she is being held with three other Britons charged in the case - Paul Beales, Julian Ponder and Rachel Dougall.
Mr Ponder made his first court appearance on Thursday. He faced the same charge as Mrs Sandiford.
The charge of selling or facilitating the sale of more than 5g of drugs is, potentially punishable by death, but prosecutors said they were only seeking a jail term of 20 years for him.
His next court hearing is expected to be 11 October.
All four people were arrested in May by Bali police for allegedly importing 4.8kg cocaine worth £1.6m.