Pentagon chief Panetta defends Pakistan drone strikes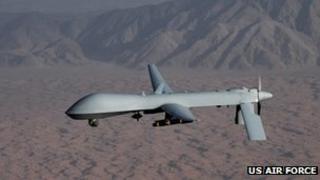 US Defence Secretary Leon Panetta has backed the use of drones to target militants in Pakistan, two days after a missile strike reportedly killed al-Qaeda leader Abu Yahya al-Libi.
Mr Panetta said the US had made it "very clear that we are going to continue to defend ourselves".
He made the comments while attending a conference in neighbouring India.
On Tuesday, Pakistan summoned the US deputy ambassador to reiterate its "serious concern" about drone strikes.
There have been eight US drone strikes in the past two weeks despite Islamabad's demands for them to be stopped.
Pakistan says the drone attacks fuel anti-US sentiment and claim civilian casualties along with militants. The US insists the strikes are effective.
'Our sovereignty'
US officials say Abu Yahya al-Libi died when two missiles struck a suspected militant compound early on Monday in Hesokhel, a village to the east of Miranshah, the main town of the North Waziristan tribal area.
At least 14 people are thought to have been killed alongside him.
The White House said Libi's death dealt a heavy blow to al-Qaeda as he played a critical role in its planning of operations against the West, and had become second-in-command to Ayman al-Zawahiri following Osama Bin Laden's death.
"There is no-one who even comes close in terms of replacing the expertise al-Qaeda has just lost," one official said.
Speaking in Delhi on Wednesday, Mr Panetta made it clear that the US would continue to use unmanned drone aircraft to kill militants in Pakistan, dismissing complaints that its sovereignty had been violated.
"We have made it very clear that we are going to continue to defend ourselves," he said. "This is about our sovereignty as well."
Mr Panetta argued that al-Qaeda leaders who had orchestrated the 11 September 2001 attacks were located in Pakistan's north-western Federally Administered Tribal Areas (Fata), which border Afghanistan.
He also said the drone strikes helped protect Pakistanis, who have been the targets of attacks by al-Qaeda and its allies.
The defence secretary also told the conference in Delhi that the US and India would need to "continue to engage Pakistan, overcoming our respective - and often deep - differences with Pakistan to make all of South Asia peaceful and prosperous".
"Pakistan is a complicated relationship, complicated for both of our countries, but it is one that we must continue to work to improve."
The US is hoping India can provide additional support to Afghanistan, including trade, reconstruction and assistance for local security forces.
'Red line'
On Tuesday, the Pakistani foreign ministry said the US deputy ambassador, Richard Hoagland, had been summoned to be officially informed of "the government's serious concern regarding drone strikes".
Mr Hoagland was told the strikes were "unlawful, against international law and a violation of Pakistan's sovereignty", a statement said.
"The parliament had emphatically stated that they were unacceptable. Drone strikes represented a clear red line for Pakistan."
Before the increase in drone strikes over the past two weeks, there had only been 11 such attacks in the preceding six months.
The BBC's Aleem Maqbool says there has been a sense in Islamabad that this increase in frequency of attacks is being seen as a means of putting pressure on - even punishing - the country at a time when it is refusing to re-open supply routes to Nato troops in Afghanistan unless certain demands are met.
If Abu Yahya al-Libi's death is confirmed, Washington may feel vindicated, but it will not appease a large section of Pakistani society, for whom US drone attacks have become a source of considerable resentment, our correspondent adds.