Prominent Afghanistan anti-Taliban commander killed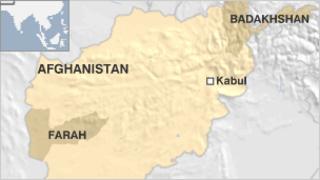 A prominent anti-Taliban commander in the Afghan province of Badakhshan has been killed in a suspected Taliban suicide attack, police say.
They say that Nazik Mir was killed in Kisham district. At least 16 civilians were injured.
Mr Mir was one of the biggest enemies of the Taliban in Badakhshan, stopping them from operating in the area.
Separately, gunmen in Farah province killed eight people late on Wednesday in a checkpoint attack.
They say that the checkpoint was manned by a government-sponsored militia.
Officials say both attacks show how the Taliban is targeting its Afghan enemies as well as Nato forces.
'Carefully planned'
Farah Deputy Governor Younas Rasuli told the BBC that the Taliban first strangled a guard and later shot dead seven local policemen.
Earlier on Wednesday a Taliban suicide bomber in the north killed at least 10 people, including three US soldiers.
A security official in Farah told the BBC that the Taliban attacked the commander of the checkpoint because he had switched sides and joined the government.
"This was a carefully planned assassination. After the attack, the Taliban took away weapons, radios and ammunition with them,'' he said.
The BBC's Bilal Sarwary in Kabul says that members of government-sponsored militias - know as arbakis - are often former members of the Taliban and other insurgent groups.
Our correspondent says that they are usually recruited locally and are considered by Afghan and western military officials to be an effective force against Taliban insurgents.
But they have also been accused of human rights violations and abuses in their efforts to curtail the activities of the Taliban.
Insurgents are also known to be active in Badakhshan, along with members of the militant Islamic Movement of Uzbekistan.
Drug dealers and smugglers often clash with police and Afghan security forces in the area.