Three held over India flat graft scandal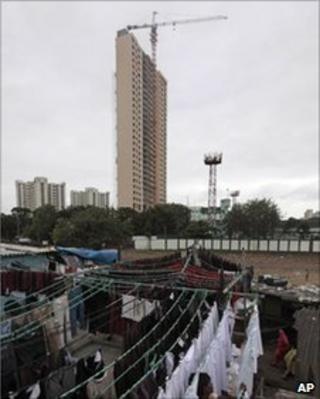 India's top investigation agency has arrested three people in connection with a building in Mumbai that has been at the centre of a corruption scandal.
The 31-storey Adarsh Society building was originally planned as a six-storey housing project for war widows.
But flats were sold to politicians and military officers, allegedly at prices far below the market rate.
The block, in an exclusive part of Mumbai, also exceeds the maximum height for buildings near the coast.
Maharashtra's chief minister, Ashok Chavan, had to resign after it emerged that relatives of his had flats in the building. He denied any wrongdoing.
On Tuesday, the Central Bureau of Investigation arrested three people - a retired bureaucrat and two former army personnel - in connection with the scandal.
They have been charged with criminal conspiracy, cheating, forgery and criminal misconduct.
Municipal authorities disconnected the building's water and electricity supply in 2010 after it was found to have violated environmental laws.
The Adarsh Society case is one of several corruption scandals that have shaken India's government.