US soldier's killing spree shocks Afghan media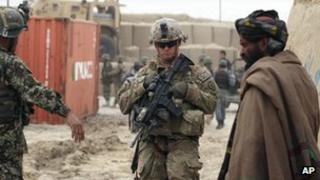 A sense of shock at the killing of 16 Afghan villagers in Kandahar province by an American soldier dominates Afghan TV news channels and newspapers. The incident draws fury from even pro-government newspapers and has triggered an angry reaction on the Taliban website.
One of the leading news stations, Tolo TV, has run the killings as its lead item and takes a factual tone in its bulletins. It shows bodies of the victims and ambulances at the scene, and highlights the call from US President Barack Obama to President Hamid Karzai, offering his condolences and pledging to take action against the culprit.
Asadollah Khaled, Minister of Borders and Tribal Affairs, spoke of a "tragic incident".
Channel One TV has also shown video of bodies of women and children.
The main private TV and radio networks in Afghanistan command large audiences. The growth in the number of media outlets - private TV stations in particular - has characterised the post-Taliban media scene.
Conspiracy angle
The press reflects anger and some suggestions of a conspiracy.
With a photo of children's bodies on its front page, the private newspaper Sarnavesht newspaper says, "It is obvious that it was a preplanned act... Today, almost every real Afghan hopes the murdering forces going under the name of helpers will leave their country."
The paper quotes President Karzai as saying the "Kandahar incident was an intentional massacre and is an unforgivable act".
Under the headline "Wild American Soldier Martyrs 16 Innocent People in Kandahar", the pro-government paper Weesa says it is "ridiculous to expect anything else from the US forces except killing and causing trouble".
For the Arman-e Melli paper, the killings will only intensify the crisis. "A terrible crime has taken place in which women and children were victims... No doubt that this incident will further escalate the tense relations between the two countries and will lead to more tension." On a front page editorial, the paper warns of a new wave of reprisals.
Taliban threat
The Taliban's website describes the massacre as a "continuation of the past acts of terror by the American monsters" and vows revenge.
"The Islamic Emirate assures survivors of the incident that it will, with God Almighty's assistance, avenge the martyrdom of each of the victims on the invading and beast-like murderers and punish them for their barbaric action," it says.
BBC Monitoringselects and translates news from radio, television, press, news agencies and the internet from 150 countries in more than 70 languages. It is based in Caversham, UK, and has several bureaux abroad.