Missing Pakistanis in a Peshawar hospital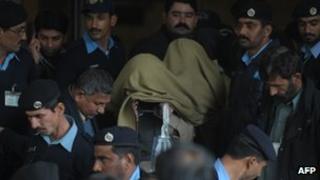 Seven men who went missing from a Pakistani jail nearly two years ago are being treated in a hospital on court orders, their relatives say.
They are among 11 men who were picked up by men in plain clothes from Rawalpindi city's Adiala Jail in 2010.
Lawyers for Pakistan's ISI and MI intelligence services told a court the men were being held by the military under the Pakistan Army Act.
Four of the 11 died allegedly after being tortured by intelligence agents.
On Tuesday, relatives of the surviving prisoners had gathered outside Peshawar's Lady Reading Hospital, waiting to be allowed to see their loved ones.
"We have been told that they are here [at the hospital] in compliance with the court order, and that they are now in the custody of the provincial government of Khyber Pakhtunkhwa, instead of the ISI, which is a great relief," Azizur Rahman, the father of prisoner Shafiqur Rahman told the BBC News website on a telephone phone from outside the hospital.
"But we are still not being allowed to meet them - perhaps because the officials don't want them to tell us how they were tortured."
Failing health
Intelligence services lawyer Raja Irshad told a court in December 2010 that they were being held by the military for having a role in attacks on military targets in the Rawalpindi area.
During their court appearance on Monday, at least three of the seven men were unable to walk without physical support.
Four of them were brought in from a hospital in Peshawar, where they were admitted due to failing health in late January, hospital sources said.
The other three were flown in from the Kurram tribal district where they said they were being kept at a safe house run by the intelligence services.
The court has now handed them into permanent custody of the provincial government pending a decision in their case. It has ordered that all of them be kept together at the hospital.
It also ruled that it must be explained why they were picked up by the intelligence services, and how four of them died while in custody.
The next hearing will be held on 1 March.
Relatives say the 11 were originally detained in different parts of the country in 2007.
They were handed over to the police eight months later and put on trial for various armed attacks in the country, according to court records.
In May 2010, the Lahore High Court ordered their release because of a lack of evidence. But they "disappeared" from Rawalpindi's Adiala Jail on the day of their release.
Relatives of the dead prisoners say they were telephoned by unidentified men who told them where to collect the bodies of their loved ones.