Afghan civilian deaths rise for fifth year, says UN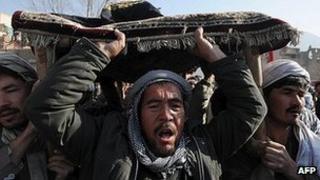 The number of civilians killed and injured in the Afghan conflict has risen for the fifth year in a row, a UN report reveals.
The UN Assistance Mission in Afghanistan (Unama) documented 3,021 civilian deaths in 2011 compared with 2,790 in 2010 and 2,412 in 2009.
Most deaths were caused by insurgents, the report found.
It said improvised explosive devices (IEDs) were being used more widely and suicide attacks had become deadlier.
However, it also said that civilian deaths from air strikes in support of the Afghan government rose in 2011.
"Afghan children, women and men continue to be killed in this war in ever-increasing numbers," said Jan Kubis, UN Special Representative for Secretary-General Ban Ki-moon.
"For much too long Afghan civilians have paid the highest price of war. Parties to the conflict must greatly increase their efforts to protect civilians to prevent yet another increase in civilian deaths and injuries in 2012."
'Real suffering'
The 2011 Annual Report on Protection of Civilians in Armed Conflict said a total of 11,864 civilian lives had been claimed by the conflict since 2007.
In 2011, "anti-government elements" were blamed for 2,332 or 77% of civilians killed - up 14% from 2010, the report said.
There were 410 civilian deaths (14%) that resulted from the operations of pro-government forces, a fall of 4% from 2010.
Another 279 civilian deaths (9%) could not be attributed to either side in the conflict, the report added.
"Improvised explosive devices were the single largest killer of Afghan children, women and men in 2011, taking the lives of 967 civilians, or nearly one in three (32%) of all civilians killed in the conflict," the report said.
"Among the tactics of pro-government forces, aerial attacks caused the greatest number of Afghan civilian deaths in 2011 attributed to these forces."
The report said 187 civilian deaths were attributed to air attacks, an increase of 9% over 2010.
UN High Commissioner for Human Rights, Navi Pillay, said it was "extremely worrying" that civilian casualties continued to rise year after year.
"Behind these numbers is real suffering and loss for families in Afghanistan. It is incumbent on parties to halt this trend and prevent such loss of life," she said.
Ms Pillay will report to the Human Rights Council in March on human rights developments in Afghanistan.
The Nato-led International Security Assistance Force (Isaf) is due to leave Afghanistan by the end of 2014, handing over security to Afghan forces.
Attacks by unmanned US drone aircraft are regularly carried out against Taliban targets in Afghanistan and across the border in Pakistan.