Pakistan court will charge PM Gilani with contempt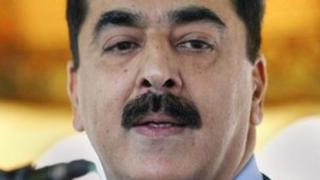 Pakistan's Supreme Court is to charge Prime Minister Yousuf Raza Gilani with contempt for failing to reopen corruption cases against the president.
Mr Gilani must appear before the court on 13 February. If convicted he faces jail and being barred from office.
The prime minister has refused to ask Swiss officials to reopen a corruption case against President Zardari, saying he has immunity as head of state.
The president rejects the corruption charges as politically motivated.
The BBC's Orla Guerin in Islamabad says the Supreme Court decision is another twist in a case which could bring down the prime minister and his government.
Recent weeks have seen intense political uncertainty in Pakistan, with the government at loggerheads with the country's powerful military as well as the judiciary.
Although tension with the military appears to have subsided, critics argue that in pursuing the prime minister the Supreme Court is doing the army's bidding, our correspondent says.
Pakistan has had three military coups since independence in 1947 but analysts believe the army has little appetite for a takeover now. Most observers predict an early general election later this year.
'PM must be present'
"We are satisfied that prima facie there is a case for further proceeding into the matter," Judge Nasir-ul-Mulk said after Thursday's hearing.
He said the prime minister was required to be in court to hear the charges against him on 13 February.
Mr Gilani's lawyer, Aitzaz Ahsan, said he would advise him to appeal against the charge.
Mr Gilani has already appeared before the court - on 19 January - when he refused to back down.
He would be the first serving Pakistani prime minister to be convicted of contempt. The Supreme Court charged former PM Nawaz Sharif with contempt in 1998 but he was not found guilty.
Correspondents say Mr Gilani can continue as prime minister while court proceedings take place.
Only if he is found guilty and when he has exhausted the appeals process, would he face disqualification from holding public office for a period of five years.
At the centre of the dispute is the record of Mr Zardari and his late wife, Benazir Bhutto, who were found guilty in absentia by a Swiss court in 2003 of laundering millions of dollars in kickbacks from Swiss firms while they were in government.
They appealed and Swiss officials dropped the case in 2008 at the request of the government led by the Pakistan People's Party of Mr Zardari.
The case was one of thousands dropped under an amnesty that allowed Ms Bhutto to return from self-imposed exile and run for election in 2008. She was assassinated shortly after returning.
However in 2009 Pakistan's Supreme Court declared the amnesty unconstitutional, leaving those covered by it open to prosecution.
Mr Zardari, nicknamed Mr Ten Percent for his allegedly corrupt dealings, spent years in prison in Pakistan but was never convicted.