India celebrates Republic Day with military parade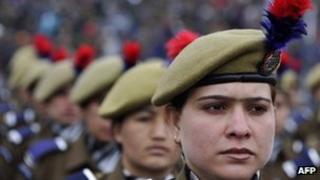 India has celebrated its 63rd Republic Day showing off its latest weapons at a military parade in the capital, Delhi.
Thousands of people turned up at Rajpath (King's Avenue) to watch the colourful parade amid tight security.
More than 25,000 policemen and paramilitary forces guarded the streets of Delhi and snipers were deployed on high-rise building.
The president and the PM attended the show with the chief guest, Thai Prime Minister Yingluck Shinawatra.
Security is tight across India and thousands of policemen have been deployed in major cities and towns.
Security has been stepped up in Indian-administered Kashmir where police and paramilitary forces have been deployed in large numbers at Bakshi Stadium, the venue of the Republic Day celebrations, in Srinagar city.
Kashmir, which has seen a long insurgency against the Indian rule, is observing the day as "Black Day".
Internet and mobile phone services have been jammed to prevent their use by militant groups, officials say.
Sporadic violence broke out in the summer capital, Srinagar, as small groups of young men pelted stones at security forces, the BBC's Riyaz Masroor in Srinagar reported.
Tight security
On Thursday morning, Delhi resembled a fortress with a multi-layered security ring in place at Rajpath, where President Pratibha Patil unfurled the Indian flag and took the salute of marching contingents, news agency Press Trust of India reported.
Officials said 160 closed-circuit cameras were installed between Rajpath and Red Fort, the route of the parade.
Anti-aircraft guns were placed at several places and helicopters hovered over the parade route.
At the parade, the army displayed its tanks and missile launchers.
The nuclear capable Agni-IV missile with a range of 3,000km (1,864 miles), which was successfully tested last November, was cheered by the public, reports said.
Smaller parades have also been held in the state capitals.
Reports say 40,000 policemen are keeping vigil in the financial capital, Mumbai, which has seen several high-profile militant attacks in recent years.
Security has also been stepped up in the north-eastern state of Assam where several insurgent groups are active.