William Hague welcomes end of 'long darkness' in Burma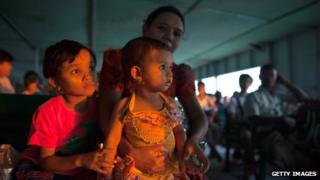 British Foreign Secretary William Hague described his visit to Burma as a gesture of good intent on the part of the UK in the light of recent changes.
"I have come to hear directly from the country's leaders what they plan to do to continue progress and to speak to opposition figures and members of civil society about British support for their endeavours," he said.
After two days of meetings with government officials, political activists and the opposition leader, Aung San Suu Kyi, he has clearly been convinced that the momentum of reform in Burma is real.
"We hope that the long darkness through which the Burmese people have lived may now be coming to an end," said Mr Hague.
The question is how far and how fast the process of reform will develop.
Less than a year since the civilian-led, but still military-backed, government came to power, some media restrictions have been lifted, trades unions have been legalised, some political prisoners have been released and, crucially, the government has begun talking to Aung San Suu Kyi.
The woman who has for so long embodied the hopes of a nation says she trusts the President, Thein Sein, and believes him to be an honest man.
She now feels confident enough to rejoin the official political system and run for a seat in parliament. The by-elections, scheduled for 1 April, will be a key test of Burma's embryonic democratic credentials.
But these are early days in what could be a bumpy transition.
Conflicts still rage in some ethnic minority areas, there are credible reports of abuses still being committed by the military in parts of the country and hundreds of prisoners of conscience remain behind bars.
Britain and its European allies want to see action taken towards resolving those issues before sanctions are lifted.
"These are indispensable steps for confidence in the country's development and they are achievable in the near future," said Mr Hague.
"We must not relax our efforts prematurely. That is the risk we must guard against."
But if the Burmese government continues along the path of reform, Britain will reciprocate.
"We are ready to move towards a strong, positive and open relationship as reforms take place and to respond bilaterally and through the EU," Mr Hague said.
"We will judge progress by actions and events and will respond in good faith to measures as they are taken."
To reinforce that message he announced additional aid for people displaced by conflict in Burma's border regions, support for peace efforts in Kachin state, and funding for micro finance initiatives.
That will all be welcome. But perhaps the real value of Mr Hague's trip lies in the fact that it took place at all.
After an absence of more than half a century, a British foreign secretary was back in Burma, building personal relationships and, Mr Hague will surely hope, a reservoir of trust on which to draw in future discussions.
There is a growing recognition that the next year could be crucial in determining the scope and speed of Burma's evolving process of reform.
"It is my hope," Mr Hague said, "that this year will come to be seen as a new dawn in the history of this nation."