India reports 1,220 train crash deaths over five years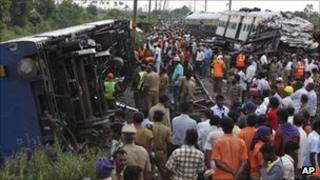 Train accidents in India have killed some 1,220 people over the past five years, according to railway officials.
Accidents at unmanned crossings accounted for more than half the deaths, with 717 fatalities, the Railway Board figures show.
The 2010-11 figures were the worst in the five-year period.
The immense state-owned railway network connects every corner of the country, operating 9,000 passenger trains a day, carrying some 18 million people.
'Cause for concern'
The railway board was responding to a right-to-information query filed by the Rail Passengers' Association of Thane district [in the western state of Maharashtra].
It said the number of people killed due to train accidents was the highest in 2010-11, with 374 deaths.
Over the past five years, 2,124 people were also injured in train accidents, it said.
India has set up a special $3.6bn (£2.4bn) railway safety fund to make travelling safer for the more than six billion passengers who use the transport network every year.
But an internal assessment by the railways said that a substantial portion of the money remains unutilised - "a cause for concern".
Particularly worrisome, it says, is the "slow progress" of work on building railway bridges, as well as on upgrading and manning crossings across the country.
Unmanned railway crossings - there are nearly 17,000 - have been responsible for more than a third of all railway accidents since 2004, and account for nearly 70% of the fatalities.