Bangladesh war crimes trial begins in Dhaka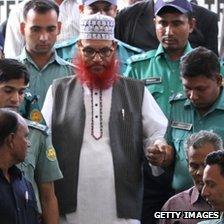 A leader of a Bangladesh Islamist party has gone on trial accused of crimes against humanity during the country's independence struggle against Pakistan.
Delawar Hossain Sayedee is the first of seven suspects set to face a tribunal on charges relating to the 1971 war.
Charges listed against him include genocide, rape and religious persecution - all of which he denies.
The chief prosecutor said the trial, which resumes on Monday, was essential for the establishment of democracy.
BBC correspondent Anbarasan Ethirajan said it marked a watershed moment for Bangladesh, which has yet to come fully to terms with its violent past.
The special court will try Bangladeshis accused of collaborating with Pakistani forces, who were trying to stop Bangladesh becoming an independent nation.
More than three million people were killed and many more were left homeless, according to official figures.
Hundreds of thousands of women are also believed to have been raped during the war.
Bangladeshi Attorney General Mahbubey Alam said the country had waited 40 years for the trial to come to court.
"We lost many professors, teachers, musicians - the bright sons of our country at the time of the liberation movement," he said.
"So it was our moral duty, our constitutional responsibility to try these offenders."
The chief prosecutor, Ghulam Arif Tipoo, said the trial was essential for the establishment of rule of law and democracy, and also key to the future of Bangladesh.
A total of seven people - mostly from Bangladesh's two main opposition parties, are facing trial.
They all deny the allegations and accuse the government of carrying out a vendetta.
The Prime Minister, Sheikh Hasina, is the daughter of Sheikh Mujibur Rahman, who declared the country independent in 1971 and became its founding president after the war, but was later assassinated.
The tribunal investigating events in 1971 was set up in Dhaka last year without any involvement from the United Nations.
Human rights groups have urged the government to ensure the trials are carried out in accordance with international standards.
The government insisted Bangladeshi law and its legal structure were competent enough to handle the trials.
Mr Sayedee, a leader in Bangladesh's Jamaat-e-Islami party, was arrested last year.
Bangladesh was called East Pakistan until 1971 when a nine-month war of secession broke out.
The trial is likely to go on for months.
Related Internet Links
The BBC is not responsible for the content of external sites.