Murdered Sri Lanka politician's family hail MP warrant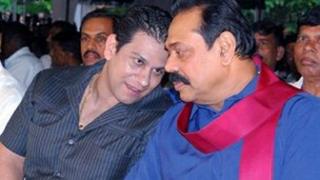 The daughter of a Sri Lankan politician shot dead last month has welcomed a court move to arrest an MP in connection with his killing.
Speaking to the BBC from an undisclosed location outside Sri Lanka, Hirunika Premachandra said that the news had restored her faith in the judiciary.
Her father Bharatha Lakshman was killed during a shoot-out in Colombo.
The court issued a warrant for the arrest of Duminda Silva MP who was present during the incident.
Mr Silva was injured when shooting broke out in the capital between rival members of the governing party.
On Tuesday a court said that Mr Silva should be arrested and produced before a court even though his name is not among the list of 15 police suspects wanted in connection with the violence.
He is currently believed to be receiving medical treatment for severe injuries in a hospital in Singapore.
Gun culture
"I think this is the first time I felt happy since my father passed away," Ms Premachandra told the BBC Sinhala service.
"It is not because somebody is being sent to prison but because we can still trust the judicial system in Sri Lanka.
"I salute the judge for making us still believe in the judiciary."
Presidential adviser Mr Lakshman was among four people killed when shooting broke out within the governing United People's Front Alliance as local elections were being held in a suburb of Colombo on 8 October.
Police said on Tuesday that there was not enough evidence to arrest Mr Silva and that he was "not of sound mind".
However, considering the evidence, the magistrate ordered the MP's immediate arrest.
Police quoting Mr Lakshman's driver said that Mr Silva blocked Mr Lakshman's vehicle and shot him. But, the officer said, other eyewitnesses had contradicted this.
The BBC's Charles Haviland in Colombo says that several other people have been detained in connection with the violence, including Mr Silva's bodyguard and a man widely described as an "underworld figure" who was with Mr Silva at the time.
Defence Secretary Gotabhaya Rajapaksa countered widespread allegations against Mr Silva by saying he was "not a known underworld king pin or some drug dealer - he's an elected MP".
But Mr Rajapaksa admitted that politicians in the area where the gunfight took place had connections with the underworld and its gun culture.