India 'honour killers' face death for 1991 murders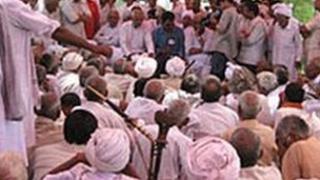 A judge in India has sentenced eight men to death and 20 others to life imprisonment for three so-called honour killings that took place in 1991.
The men were found guilty of murdering a Dalit boy and a girl from a higher caste who had eloped together, as well as the boy's cousin.
All three were set alight and hanged, the court in Uttar Pradesh state heard.
A BBC correspondent says the sentences are some of the most severe ever recorded in a such a case.
Earlier this year India's Supreme Court ordered states to stamp out "honour killings, saying people found guilty of such crimes should face execution. Convictions in such cases often carry life sentences.
The death penalty is awarded only very rarely in India - when executions are authorised they can be delayed for years on appeal.
Genitals burned
Age-old notions of tradition and family honour are still deeply entrenched in many parts of Indian society.
According to one recent study, hundreds of people are killed each year for falling in love or marrying outside their caste or against their families' wishes.
Often "honour" crimes are endorsed, or even encouraged, by village-based caste councils or panchayats.
The court in Mathura in Uttar Pradesh heard how Vijander, a Dalit boy, had eloped with his girlfriend, Roshni. She was a member of the higher-caste Jaat community and from the same village, Mehrana, near the border with Haryana state.
The couple returned to Mehrana a few days later thinking anger would have subsided, the BBC's Ram Dutt Tripathi in Lucknow reports.
But village elders decreed they be killed, along with Vijander's cousin Ram Kishan, who had helped them elope.
The killings took place on 22 March 1991 and were brutal - the court heard how the genitals of the deceased were burned before they were hanged from a tree.
The case came to light because the parents of the boys lodged a case against the council for ordering the killings, our correspondent says.