Pakistan drone attack kills six in North Waziristan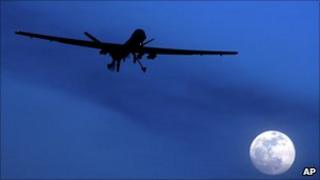 A US drone attack has killed at least six suspected militants in north-west Pakistan, intelligence officials say.
The men were in a compound near Miran Shah town in North Waziristan when the drone fired two missiles.
Drone attacks have focused on North and South Waziristan, where US officials believe many al-Qaeda and Taliban fighters find shelter.
The US says the region is home to several militant groups involved in attacks on Nato forces in Afghanistan.
Drone attacks frequently target Pakistan's restive tribal areas, where many insurgents have taken refuge.
The frequency of the attacks has increased since President Barack Obama took office in 2008. More than 100 raids were reported in the area in 2010, and more than 60 have taken place this year.
The US does not routinely confirm drone operations, but analysts say only American forces have the capacity to deploy such aircraft in the region.