Pakistan 'suicide bomber' kills ex-official in Swabi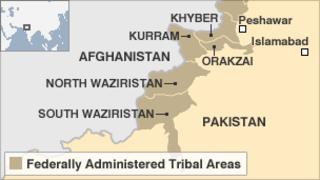 A suspected suicide bomber has killed a former government official and his guard and injured nine others in north-west Pakistan, police say.
The attack took place in Swabi about 102 km (65 miles) from Peshawar.
Police said Hanif Khan Jadoon, a former local official, was leaving a mosque when the bomber set off the blast.
It is not clear why Mr Jadoon was targeted but police said he was a member of the secular Awami National Party, which rules the province.
Members of the party have been targeted by militants in the past.
"It was a suicide attack. The bomber was on foot. Hanif Jadoon was killed on the spot and his security guard died in hospital," Mohammad Ijaz Khan, Swabi police chief, told AFP.