Satyam chief Ramalinga Raju freed on bail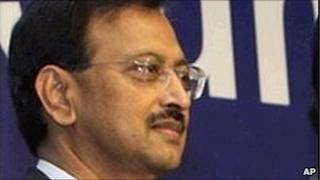 India's Supreme Court has granted bail to Ramalinga Raju, the founder of software services giant Satyam Computers, who is accused of staging India's biggest corporate fraud.
The court also freed his brother and a senior employee on bail.
Mr Raju, who was arrested in January 2009, and nine others are alleged to have stolen millions of dollars from Satyam.
Mr Raju denies charges of conspiracy, cheating and forgery.
But he admitted to years of accounting malpractices.
Last month, the Supreme Court granted bail to four senior Satyam employees who were held in connection with the scandal.
In August last year a court in the southern city of Hyderabad had granted bail to Mr Raju.
But the Supreme Court cancelled the bail and sent him back to prison a month later after the prosecution argued that Mr Raju could influence the witnesses in the case.
Mr Raju spent nearly a year in hospital where he was being treated for hepatitis.
Satyam was one of the biggest players in the booming Indian IT software market. An Indian firm, Tech Mahindra, bought a controlling stake in the IT company in April 2009.